Image: Dinith is probably the closest and trusted associate of Ranil Rajapaka.
Chairmen of the Election Commission Nimal Punchihewa has refuted the statement issued by Ranil Rajapaksa appointed DG of the Government Information Department, indirectly saying that Local Government Elections will not proceed.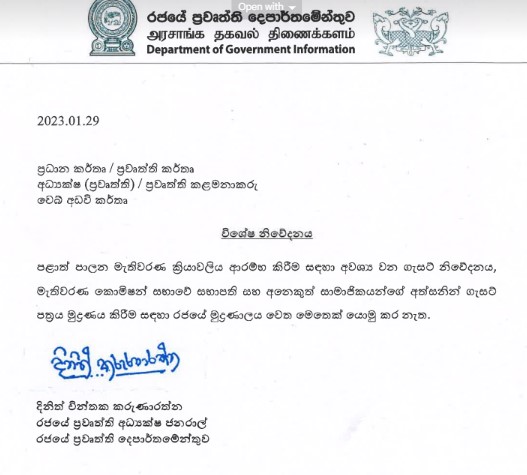 Dinith Karunarathana, former freelance journalist of "Lankadeepa"  is  a closet associate of president Ranil Rajapaksa.
The Island reports:
Chairman of the Election Commission of Sri Lanka, Nimal Punchihewa, asked to comment on a special news release, purportedly issued by the Director General of the Department of Government Information, on Sunday (29), told  The Island  that preparations for the 09 March local government elections were going ahead, as planned, and that the media statement at issue was misleading.
The media statement says: "The gazette notice with signatures of the Chairman and other members of the Election Commission required for the commencement of the Local Government election process has not been sent to the Government Press for printing."
Punchihewa requested the public not to be misled by any misinformation being spread in an attempt to create doubts in their minds. He also  reiterated that the EC would not be deterred by any acts of intimidation.
Three of the EC members have been threatened with death by an unidentified caller to resign from their posts. They are S. B. Divaratne, M. M. Mohamed and K. P. P. Pathirana. The Opposition has accused the government of trying to sabotage the LG polls.