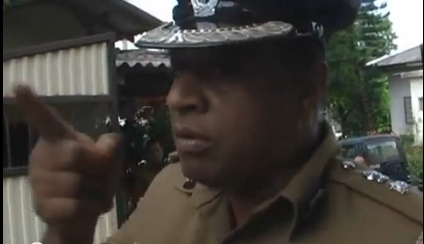 (screen shot , CG video)
Two senior police officers today warned a video journalist who had attempted to take video footage from outside the Mount Lavinia District Court of those arriving for a case involving The Sunday Leader newspaper, including Defence Secretary Gotabhaya Rajapaksa.
Both officers told the video journalist not to take video footage of the Defence Secretary or his motorcade when they arrive at the Court premises.
When asked why, one police officer responded by saying that if something happens to the motorcade then the journalist will also be arrested.
The same police officer then advised the journalist never to even go behind a VVIP motorcade on the road as those who follow such motorcades could face arrest by the police.
"Those who have brains will not come," another police officer told the journalist when the journalist says that taking footage from outside Court is nothing out of the ordinary.
The police officer said that since it involves the Defence Secretary it cannot be allowed and added that most media institutions are aware of that. (Colombo Gazette)