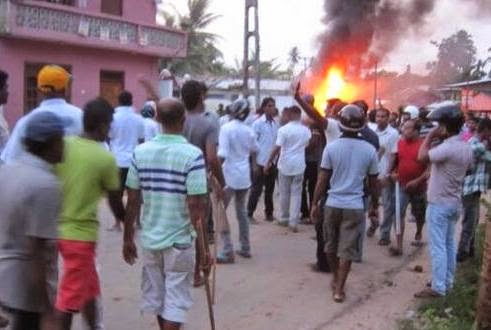 Tamil Nation Alliance today called upon government to take legal action against individuals responsible for the riots reported in the Dharga town in Aluthgama and Beruwela areas.
TNA consider this issue as a pre planned attack against Muslim nationals.
TNA leader R.Sambanthan released special statement on this tense situation,
Statement follows:
We express our deepest concern over riots situations over tense situation reported in the Beruwela and Aluthgama areas last evening.
House and shops of Muslims were torched and damages caused to their properties.
Three Muslim killed and many others were injured.
According to the sources this tense situation reported when two organisations on majority community organised protest march at these areas.
We believe this was a pre-planned attack.
Officials own rights to implement law and order were present at the site and file to control up-raising tense situation.
This activity clearly proved that the officials are not much more aware on this issue.
We face such situation in the past.
Tamil National Alliance would like to request the government to take legal action against individuals behind this tense situation and also request to prove the security of Muslim nationals