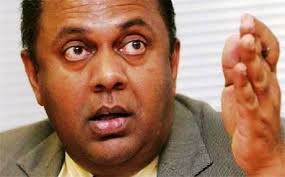 The only strategy of this impotent regime is to plot a plan to make use of the Sinhala chauvinistic votes at the next presidential election, and it is using vagabonds clad in robes to sow seeds of hatred instead of Dhamma, said UNP MP Mangala Samaraweera at a media briefing at the party headquarters today.
He alleged that Bodu Bala Sena, with state protection, had killed three persons and broken legs of schoolchildren at Aluthgama and Beruwala areas.
BBS is being run by the state intelligence service, and it was doubtful as to whether the person calling himself Gnanasara and leading the group is actually a Buddhist monk, said the UNP MP.
He said a list of persons being led by the state intelligence service would be place before the media.
The chauvinistic war that had begun in Aluthgama with STF support had now spread to Badulla, where three shops had been set on fire, said MP Samaraweera.
Law enforcement agencies had aided those who had led the attacks, he charged, adding that had such a protest been conducted by university students or the UNP, their eyes would have been ripped up