Dr Varatharajah
Former Regional Director of Health Services (RDHS) for Mullaiththeevu, Dr. Thurairajah Varatharajah, currently in exile in the U.S, says in video documentary aired in India's NewsX TV station that Colombo, after keeping him and four other doctors in prison at the end of the war, forced the doctors to lie to foreign media and to the Organizations accusing Sri Lanka of allegations of committing war-crimes to neutralize the allegations. Dr Varatharajah said that living under such conditions had become unbearable that he had to seek ways to get out of Sri Lanka with his family. The doctors were accused by Colombo of giving false accounts of civilian deaths during the war, and were forced to recant the figures in a well publicized news conference. Dr Varatharajah, said he is talking voluntarily to set the record straight now that he does not have to fear for his life.
Dr Varatharajah told NewsX that he and other doctors were able to treat non-life threatening injuries with available medicine, anesthesia, and pain-killers. However, they were not able to perform surgeries on seriously wounded due to lack of medicine. "We would have been able to save many thousands had we had appropriate medicines," the doctor said on the conditions prevailed during last months before the war ended in May 2009.
"I stayed behind to provide a much needed medical service to my people. The State imprisoned me for four months for that," Varatharajah said.
Ananthi Sasitharan, currently a TNA member of parliament, says in the interview that her husband (nom de guerre Ezhilan), a political head of the LTTE in the eastern province, surrendered with Father Francis Joseph on May 18, following an announcement by the Sri Lanka military that they will pardon those surrender, and has not been seen since.
The NewsX interview has additional segments of interviews with US-based leader Rudrakumaran, leader of Tamil National Peoples Front (TNPF) Gajendrakumar Ponnambalam, civil society activist Guruparan, TNA MPs and others.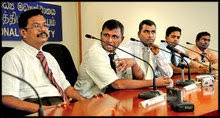 Doctors V. Shanmugarajah, Thurairaja Varatharajah,
Thangamuttu Sathiamurthi, Sivapalan and Ilancheliyan Pallavan
The doctors working in the NorthEast in civilian hospitals under LTTE run de-facto civil administration were Ki'linochchi Regional Director of Health Services (RDHS) Dr. T. Sathiyamoorthy, Mullaiththeevu RDHS Dr. Thurairaja Varatharajan, Dr. Ilancheliyan Pallavan of Puthukudiyiruppu government hospital, Mullaiththeevu Medical Superintendent Dr. Kanapathipillai Shanmugarajah, and Dr. S.Sivapalan.
The detained doctors have been given low level medical posts in the NorthEast, and are working with close monitoring from the Sri Lanka military intelligence, sources in Jaffna said.
Delhi-based journalist Rajesh Sunderam
Rajesh Sunderam, the video documentary maker worked for Al Jazeera, was an Executive Editor at New Delhi-based Alpha Media and recently returned from South Africa after working on a controversial TV Channel startup for three months. Sunderam visited the U.S. to conduct interviews with visiting politicians and civil activists for a Tamil Diaspora event held in New York.
TN