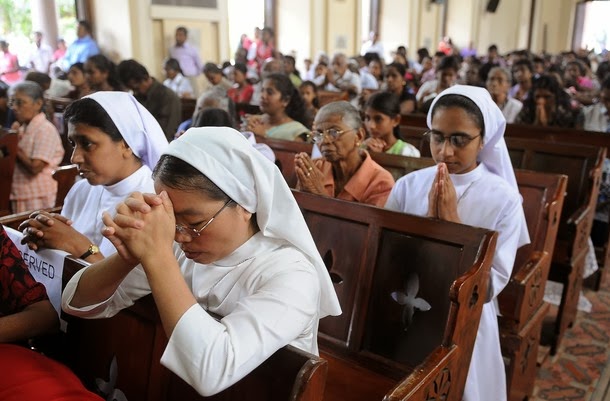 File photo
World Watch Monitor
More than 2,000 Christians gathered in Colombo on Sunday to protest against a perceived lack of religious freedom in Sri Lanka, following recent attacks on Christian places of worship by Buddhist extremists.
Two churches and a Christian prayer centre were attacked on Jan. 12 by Buddhist mobs claiming they were illegal and aiming to take Buddhists away from their religion.

The prayer centre, belonging to the Church of the Foursquare Gospel in Pitipana, near Colombo, was set alight on the same day as attacks on the Assemblies of God Church and Calvary Free Church in the southern coastal town of Hikkaduwa.
The fire was quelled in Pitipana before the centre was completely destroyed. Release International reported that a note was left outside the building, threatening further violence. Both churches in Hikkaduwa suffered extensive damage, with windows and furniture smashed and Bibles burned.
The Assemblies of God Church had been one of three churches attacked on Christmas Eve and had been warned on Jan. 11 of the threat of a new attack. Several policemen were stationed outside the church on Jan. 12, but they failed to prevent a mob of around 250 people breaking through the gates of the church, as captured by this video on Derana TV.
A police spokesman said that 24 suspects were identified and would face trial. Sri Lanka's Daily Mirror reported that the trials of 18 suspects, including five Buddhist monks, began at Galle Magistrate Court, near Hikkaduwa, yesterday (January 27).
Addressing the crowd of Christians on Sunday at the Cathedral of Christ the Living Savior in Colombo, Anglican bishop Dhiloraj Canagasabey asked for the country's Christians to enjoy the freedoms promised in the national constitution.
"The freedom of thought, conscience, religion and association should be available to all religious communities," said the bishop, as reported by UCA. "We expect the rule of law to be upheld and worry about hate speech and hate mongering against non-majority faith communities. Christian communities face hardships in educating children in accordance with the tenants of their faith. Many children are compelled to study the majority [Buddhist] religion, a clear violation of our religious rights."
The National Christian Evangelical Alliance of Sri Lanka has reported a spate of other incidents in January that have heaped pressure on Sri Lanka's churches.
The alliance said police questioned the pastors of several churches whether their churches were authorised, and in some cases were warned not to meet due to threats from Buddhist monks.
The Pastors Fellowship in Vavuniya, northern Sri Lanka, and the Church of Grace in Warakapola, near Colombo, both faced questions by the police. Meanwhile, the house of the pastor of the Rathgama Christian Church, near Hikkaduwa, was vandalised and threats were made against the Suveya Doratuwa Church in Bibile, eastern Sri Lanka.
In a country dominated by Buddhists, the Christian (approximately 7%) and Muslim (10%) minorities have long complained of discrimination and attacks.
The government has announced plans to introduce regulations against publications that "defame the original teachings and traditions of the major religions". While outwardly a positive move, the legislation has been likened to the controversial "anti-conversion laws" in neighbouring India.
Five Indian states thus far have passed laws placing restrictions on religious conversions. The U.S. Commission on International Religious Freedom, an advisory body to the U.S. Congress, said that "while intended to reduce forced conversions and decrease communal violence, states with these laws have higher incidents of intimidation, harassment, and violence against religious minorities, particularly Christians, than states that do not".
The Centre for Policy Alternatives, a Colombo-based political think-tank, said the proposals in Sri Lanka would "stamp a further official seal of approval on Sri Lanka's slide towards majoritarian religious extremism and sectarian violence".
Sri Lanka is No. 29 on the 2014 World Watch List, which ranks the 50 countries where Christians face the most opposition. The country did not appear in the top 50 the previous year. The curator of the list, Open Doors International, says the reason for Sri Lanka's inclusion this year is a rise in violent attacks against Christians and churches and the appearance of nationalistic and religious supremacy in the country since July 2012.
CT