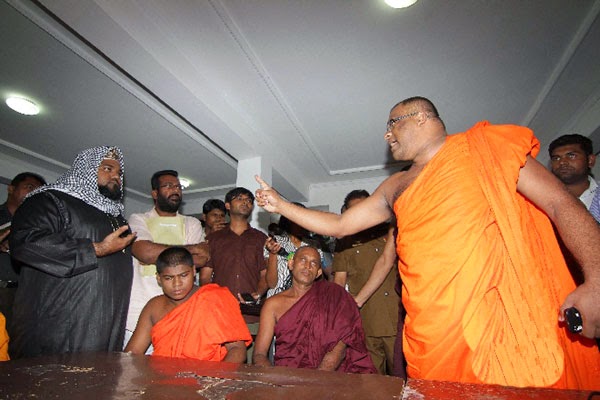 BBS thuggery at a Press con
Alleging that the Bodu Bala Sena (BBS) has brought the country and Buddhism into disrepute, the Bar Association of Sri Lanka has urged Attorney General Palitha Fernando, PC to take remedial measures immediately.
President of the Bar Association, Upul Jayasuriya said that law enforcement authorities had failed in their duty, therefore the AG should intervene without further delay.
The following is the full text of the letter; the BASL chief has sent the AG:
"The Bar Association of Sri Lanka (BASE) brings to your notice and immediate action, recent instances of open violations of the law, where the Police have failed to take appropriate action as required by law.
We refer to the forcible disruption of a press conference that Ven. Watareka Vijitha Thera was to hold at the Nippon Hotel, Colombo 2, on 9 April 2014, by a group identified in the presence of the media, the police and the public as comprising of leaders from the Bodu Bala Sena (BBS). The organiser of the press conference, Ven. Vijitha Thera had been forcibly prevented, according to reports recorded by the electronic and print media and complaints lodged at the Slave Island Police, under threat of death from holding the press conference. This is an open transgression of the freedom of speech and peaceful assembly in violation of the Constitution of the country. In addition several offences have been committed under the Penal Code including unlawful assembly, criminal force, criminal intimidation, wrongful restraint, wrongful confinement etc.
* On 12th April 2014, Ven. Gnanasara Thera, General Secretary of the BBS had made highly derogatory and offensive remarks about Islam and the religious text of the Muslims, allegedly misquoting the Quran, in violation of the Penal Code provisions relating to offences against religion. These remarks had been made in public in the presence of the media, the police and the public in the compound of the Slave Island Police Station. Evidence of these utterances were recorded by the print and electronic media and needs to be called for and examined for instituting appropriate prosecutions by your department.

* Some of the utterances made by Ven. Gnanasara Thera on 9th April and on 12th April constitute serious offences of causing feelings of ill-will and hostility between different communities and religious groups which are criminal acts prohibited by section 2(1) of the Prevention of Terrorism (Temporary Provisions) Act, a non-bailable offence punishable with a minimum sentence of five years and a maximum of twenty years.

* The offences committed on these and several previous occasions by the BBS and its officials have brought the country and Buddhism into grave disrepute. Since the state is constitutionally obliged to protect Buddhism, the Attorney-General must institute proper legal proceedings against the BBS for bringing into disrepute the Dhamma and the Sangha. There are several instances during the past two years in which serious violations of the law had been publicly and openly taking place watched by millions of people through the electronic media. There were no prosecutions and at times no proper investigations. Offences were compounded in cases where even courts do not have the power to compound as it happened in the case of the illegal raid on Fashion Bug at Pepiliyana. It is the view of the bar that this impunity must end in the larger interest of people of this country. The rule of law must prevail.

* We in the bar will monitor the progress in the above cases closely, as we had done in other instances-We will appreciate if the BASL is kept informed of the progress and for any further assistance you may require in these matters