The Internet Media Action (IMA – www.imalanka.org) is concerned about the blockage of the news portal Lanka e News (LeN: www.lankaenews.com) since last 8th of November 2017 making inaccessible to the LeN website within Sri Lanka through all the Internet service providers(ISPs) including Sri Lanka Telecom, one of the leading broadband providers in the country.
Also, the IMA strongly condemned the decision to censor, ban, and block and generate technical complications on any internet publication and we firmly opposed the ban imposed on the Lanka e News.
The actions to censor and restrict the freedom of information, speech and press are not sustained longer in the modern digitalized world and if the current good governance government would impose restrictions on the freedom of expression, the government would become a 'regressive institution' in the digitalized, free internet society.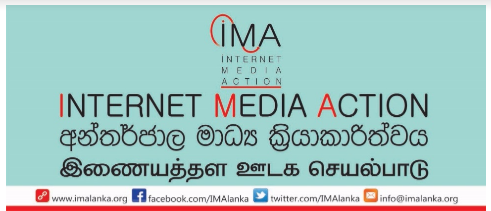 The official statement about the difficulty of accessing to the Lanka e News website and issues related to the matter should be made by the Department of Government Information, the Ministry of Mass Media and the Telecommunication Regulatory Commission (TRC) of Sri Lanka. If not, we believe, that the good governance government is now pushing aside the discourse on open governance and democracy in Sri Lanka.
The other fact is that instead of being sensitive to the criticism of government policy in the internet sources, the government actions to manipulate information, indicate the characters of the Rajapaksa regime in the 'good governance'. It is not worth the 'good governance' principles. Similarly, democracy and media freedom in the society are threatened through the actions occurred in a country caused by no legal reason or a court order.
The good governance government, which came into power on 8th January 2015 lifted of the ban over five websites, including Lanka e News and Lanka News web signifying a way forward and now blocking the website again, it demonstrates the precondition of fearsome future.
Hence, the blockage of Lanka e news is a serious warning of the government to the freedom of the press and media and internet and democracy of the country and it further clarified the allegations made by the present regime on publications on the internet.
We, thereby, call upon the government to eliminate the online censorship and blocking to access the Lanka e News website and ensure freedom of the press and media and internet and to be committed to 'good governance' and not to be 'isolated governors' in the digitized world and to show the government's eagerness to the digital world through its actions.
Sampath Samarakoon
Convener
@sampathslk