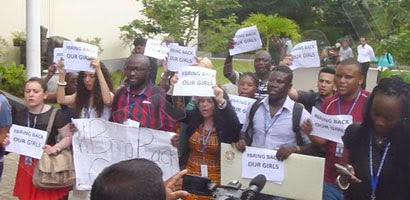 Not allowed to speak up!
African delegates protest at BMICH
A protest was conducted by a group of African delegates participating in the World Conference on Youth (WCY) at the BMICH yesterday against the refusal by Minister Dullas Alahapperuma to allow them to hold a press conference. The ordeal had taken place around 12:30 in the afternoon when the Minister of Youth Affairs and Skills Development was holding a press conference at the media centre outside the main hall of the BMICH. The group of Africans had walked by holding placards that read 'Bring back our girls'. They had attempted to enter the premises to hold a press conference, but had been denied entry.
Minister Alahapperuma had denied permission stating that the protest was not connected to the conference. "These people have a different agenda in mind, and this has nothing to do with the Conference. So I don't think we should allow them to hold a press conference," the minister told the media.
The protest by the Africans continued outside the media centre with the youth delegates shouting, "This is our event," and "The World must know of our plight." Between 20 and 25 Africans participated in the protest. Saadiya Edghill from Guyana said there had been a mass abduction of over 300 girls by a militant group known as Boko Haram in Nigeria.
"We, the youth wish to propagate this grave injustice to the world. Those little girls did not deserve this plight, they have done nothing wrong," she said. Terrorism Research and Analysis Consortium (TRAC) too issued a statement in condemnation of the kidnappings by the Boko Haram group.