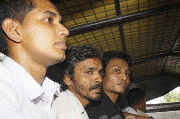 journalists arressted
By THE ASSOCIATED PRESS
The Sri Lankan police arrested nine journalists and seized computers and documents from the office of an independent news Web site on Friday, said a media rights group in Sri Lanka, one of the world's most dangerous countries for journalists.

The police said they had a court warrant to act against the Web site, srilankamirror.com, but they have not explained the reasons for the arrests, said Gnanasiri Kottigoda, the president of the media rights group, the Sri Lanka Working Journalists Association.
The site was among five blocked by the government last year in a move criticized internationally as a violation of media freedom. A court settlement restored access to the Web site a month later.
The police action on Friday clearly shows that "the government has not stopped its campaign to harass and intimidate the independent media institutions and journalists in Sri Lanka," Mr. Kottigoda said.
More than a dozen police officers surrounded the Web site's office in Kotte, on the outskirts of the capital, Colombo, and searched for about three hours, said Mr. Kottigoda and a witness who asked not to be identified.
The officers seized computers and documents and drove the nine journalists, including the Web site's editor, away in police vehicles, both said.
A police spokesman did not return calls seeking comment on Friday.
Even if the Web site had published false information or engaged in character assassination, Sri Lanka has ways to take legal action and punish them. Mr. Kottigoda said using the police to raid offices of independent news media institutions was not acceptable.
"We see this as a move to silence the independent media in Sri Lanka," he said.
Last year, the authorities blocked srilankamirror.com and four other Web sites after accusing them of character assassination. The other four Web sites are still blocked.
After the Web site filed a case in the Supreme Court, Sri Lanka's Telecommunication Regulatory Authority agreed to remove the block on srilankamirror.com on condition that it would not provide links to sites that are blocked or unregistered.
The blocking of the Web sites drew wide criticism from media rights groups. The Committee to Protect Journalists, in New York, said Sri Lanka was the fourth most dangerous country for journalists in 2010.
Amnesty International says at least 14 Sri Lanka media workers have been killed since the beginning of 2006.
Media rights groups blame the government for failing to properly investigate several attacks on journalists and media institutions and arrest the culprits.
NYT