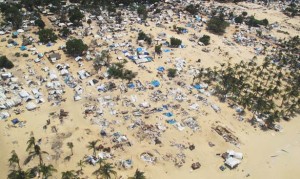 Vanni, aftermaths of war – Is internal rules enough to protect civilians in war?
Sri Lanka's military on Thursday asked the government to introduce its own rules to deal with civil wars, saying existing international humanitarian laws cover only state actors and not terrorist organizations. The country's armed forces face numerous human rights allegations and possible war crimes for their conduct during a decades-long civil war with separatist Tamil Tiger rebels that ended in 2009.

The suggestion is part of the military's response to a call to implement a war commission report that suggests investigating abuse allegations against government soldiers.
The army also rejected a suggestion by the commission to confine police to civil matters only, saying they should be placed under the defense ministry. Even though it is common for police to be under home ministry or under purview of a regional administration in many countries, "such countries do not face widespread internal disorders," it said.

Sri Lanka is likely to face questions at the United Nations Human Rights Council meeting in March on what steps it has taken to implement the report of the Lessons Learnt and Reconciliation Commission.
Three diplomats from the United States, deputy assistant secretaries of state, James Moore and Jane Zimmerman, and Deputy Assistant Secretary of Defense Vikram Singh visit the country on Saturday to discuss the implementation of the report.
Army Commander Lt. Gen. Jagath Jayasuriya handed over the military's seven recommendations to Defense Secretary Gotabhaya Rajapaksa on Thursday. It also includes a suggestion calling for local guidelines on the roles of international humanitarian organizations in civil war situations.
During the civil war Sri Lanka often loudly accused aid groups of helping the Tamil Tigers and ordered their eviction from the war zone when it started its final offensive, limiting essential supplies to hundreds of thousands of civilians trapped inside the war zone.
A United Nations report said at least 7,000 civilians were killed during that time.
International human rights groups have accused government troops and Tamil Tigers of possible war crimes. Sri Lankan soldiers were accused of deliberate targeting of civilians, and blocking food and medical convoys to the battle zone, while the rebels were accused of child recruitment and using civilians as human shields.
AP