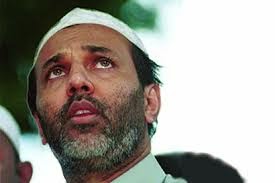 Rauf: where does he go form here?
A group of Budu Bala Sena went to Mawanella town to create mayhem and panics in the minds of minority communities in Mawanella area. This happened on 22-03-1-14. It is very much clear that they have taken the law in to their hands and they do not respect law enforcement agents in the country. Police and armed forces have to stay idle in front of them until they do their dirty work. Today, they have changed the name of street from a Muslim name to a Buddhist name. From Hassan mawaththa to Anagarika Darmapala MV and yet, police and armed forces did nothing as if they give green light.
Where is law and order in this country and one wonders who rules this country. Is there any rule of law in this country? How could they change the name of a street without any formal permission from court orders or from Town Hall?
Who gave the permission to act like this? It is really laws of jungles that dominate this country and it is shame on the legal systems of this country which has been maintaining law and order since the independence with some degree of legal integrity and fairness. These types of anti- social behaviour not only give bad name to Sri Lankan law enforcement agent but it also makes mockery of Sri Lankan legal system. It is only recently police spoke person said that if anyone takes law into their hands they will be severely punished and how many times BBS violated law and order and yet no action has been taken against them. It is believed that influential political power is behind this BBS.
Otherwise, how could these people do all these anti –social behaviours? They have been targeting all minority communities in recent time and yet, no action has been taken against them and there are hundreds of video and audio evidences against them and yet, no none dare to take action against them. They have been doing all sorts of intimidation and violence against minority community in Sri Lanka yet, entire nation is silent about it. Recently that late president Mrs CK Bandaranayke wanted to speak about it and wanted to discuss this problem with President M. Rajapakse yet, such discussion was not materialised at all. It has been puzzling that someone on the top in the political hierarchy is doing all these dirty work and we hope and pray that one day justice will be done. Justice is absolute and unconditional and for that matters this ruling elite is not immune from divine punishment and justice.
Muslims have been maintaining peace and harmony throughout these last three years of intimidation, threat and verbal abuse of BBS in Sri Lanka. It should be said that BBS is has no grass root support. In this particular day, Muslim community leaders asked people not approach them, not to speak to them and not to record this incident. This is indeed a good move and this is indeed an exemplary precedent in Sri Lanka so that public will know who make trouble and who engage in anti-!social activities.!
They have been plotting against minority communities and yet, their plot and crafty tricks went in vain as they do not get the support of majority of people in this country. In today's event they could not even get support of one hundred people and Singhalese people in the area do not give them any support. Only some hard-core extremists of BBS from outside came to the town and did all shouting and noise. It is rather like a political meeting against the minister Mr. Rauf Hakeem.

It is ineptitude of Muslim political leadership that paved the way to this pathetic condition. They should have resigned from this government long before these anti-Muslim trend increases to this extend in. Sri Lanka. Why Muslim political leaders maintain silence over this incident? Why cannot they act collectively at this time of great danger to the mere existence of Muslims in Sri Lanka? Why they do not do something about it?
– Sri Lanka Gaurdian