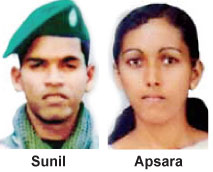 A 30-year-old ex-army commando deserter arrested over the killing of a constable attached to the Matara police anti-vice squad and his wife, was shot dead yesterday morning, when he allegedly attempted to shoot police personnel taking him to recover a hidden arms cache.
Constable W. G. Sunil was shot on his head while his wife, Apsara, was clubbed to death by the suspects on the night of November 16 at their residence in Kamburupitiya.
The two year-old son had not been attacked but had fallen from the hands of the mother, when she was attacked. The child was rushed to the Karapitiya hospital by neighbours as blood was found inside his nose. But, the medical examinations had confirmed that the child had not been attacked, police sources said.
Police spokesman SSP Ajith Rohana told The Island that the suspect identified as Vidanagamage Amith Priyadarshana, a friend of the main suspect in the double murder had been shot dead by the Kamburupitiya police on a cinnamon land at Owitigamuwa around 4.50 a.m.
He said that the police had arrested the suspect three hours before the shooting in Kamburupitiya and taken him to a hideout in search of weapons used in the brutal killing.
Then the suspect had attempted to fire at the police with a revolver he took out from the hideout.
The police suspect that more suspects were involved in the double murder as the case was related to drugs.
The two year-old child has been handed over to Apsara's father and their other six year-old son to her relatives. The eldest son escaped assault by hiding under a bed when the killers struck.
The police said that the victim constable had taken part in several raids conducted by the Matara Division Anti-vice Squad during the recent past.
By Madura Ranwala
IS