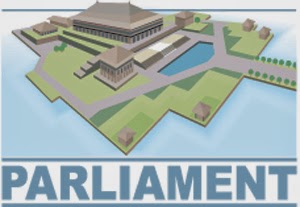 Live telecast of Parliamentary proceedings taken off the air to save Govt. skins
A step in the right direction that Speaker Chamal Rajapaksa took last December, to make parliamentary proceedings more accessible to the public, by allowing live telecast of proceedings over a cable network, came to an abrupt end this week, with the announcement that the transmission was being stopped.
Deputy Speaker Chandima Weerakkody, in the absence of Speaker Rajapaksa who is away in Australia attending a conference, announced on Wednesday that the transmission was being stopped, but did not give a proper explanation for the termination.

The announcement drew the ire of several Opposition legislators, but going by the warning given by Speaker Rajapaksa to MPs, as sittings wound up for last year, that he would have to "reconsider his decision regarding live telecast of proceedings, if they did not conduct themselves with dignity and decorum," the end of the live telecast should not come as a surprise to anyone.
During the period of about a month, when proceedings were telecast live, enough heat was generated by Opposition legislators to make the Government side very uncomfortable. Personal jibes at President Mahinda Rajapaksa and members of his family, particularly by UNP Matara District MP Mangala Samaraweera, had angered many including the President. Media Minister Keheliya Rambukwella, who was at the receiving end of ridicule at the hands of UNP Ratnapaura District MP Ranjan Ramanayaka, was among those who felt Opposition MPs were taking undue advantage of the live telecast to slander Government members.The issue of why the live telecast was stopped was first raised by UNP Colombo District MP Ravi Karunanayake during question time on Wednesday.
Opposition Leader Ranil Wickremesinghe too asked for the reason why the transmission was stopped without the MPs being informed in advance. "The Deputy Speaker says it was a test transmission. Nowhere had the Speaker mentioned this was so. You cannot stop a transmission in this manner," he said.
JVP MP Anura Kumara Dissanayake questioned how the live telecast can be stopped in the absence of the Speaker. "This tantamount to depriving the people of their right to information," he said.
ST