Image: Secretary to the Director Information of  Rajapaksa govt is one of the leading thug who led the attack on GGG.
STATEMENT ON THE EVENTS OF 9TH MAY 2022
On the morning of 9th May 2022, pro-government mobs, transported to Colombo in busses, brutally assaulted peaceful protestors outside Temple Trees and in GotaGoGama, Galle Face.
We condemn, in the strongest possible terms, this attack by mobs wielding wooden poles and steel rods, on unarmed protesters, where tents were burned, property destroyed and civilians intimidated and beaten.
It is now clear that the mobs were brought to the official residence of the then-Prime Minister Mahinda Rajapaksa; and that their assault originated from his office at Temple Trees. There is ample video footage to back the claim that these mobs were assembled and addressed by the Prime Minister of the country and leading party members including former Cabinet Minister Johnston Fernando, who urged the attackers to destroy the protest sites and drive away the protestors.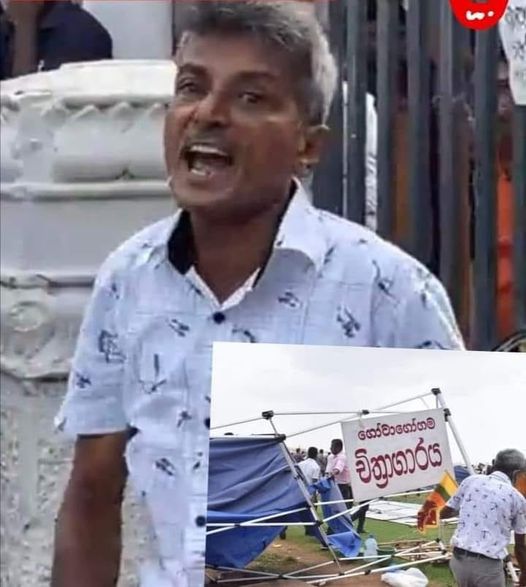 When this act of state-sponsored violence unfolded, the police stood by and did nothing. In
effect, they simply watched the pro-government mobs first attack a small group of civilians
outside Temple Trees and then proceeded to march, unimpeded, for a distance of over a
kilometre to the second protest site (GotaGoGama). Here they brutally attacked the peaceful protestors once again and systematically destroyed tents, information booths, food stalls, libraries and other infrastructure set up to sustain a flourishing, organic, local community.
In light of this blatantly state-sanctioned and organized act of violence, we, the Artists of the People's Movement, demand the immediate arrest of Mahinda Rajapaksa, Johnston Fernando and other members of government who organised and instigated this heinous attack. We state, in no uncertain terms, that ALL those who contributed to this violence, either through action or inaction, should be charged and prosecuted under the full extent of the law.
We further like to draw attention to the fact that this attack took place while the country was under a State of Emergency, declared by the President on 6th May. The State of Emergency bestows upon the President extraordinary powers to address any threat to national security and public order. Irrespective of existing calls for Gotabaya Rajapakse to resign for bankrupting the country and bringing it to its knees, the President's manifest failure to evoke the extraordinary emergency powers to safeguard the civilians at Temple Trees and Galle Face should warrant, under any democratic regime, his immediate and unequivocal resignation.
This failure of the President further calls into question his motives for declaring Emergency in the first place. Was it to protect his own disintegrating political power? Or is it a sinister
mechanism to intimidate citizens and take away their rights? The State of Emergency continues to be in operation even today and needs to be challenged.
Regrettably, the brutal attack on Gotagogama resulted in large-scale retaliation by ordinary
people who set upon the attackers, their buses and subsequently property and vehicles owned by members of the ruling family and their political allies.
Having acknowledged the root causes of the anger that boiled over into the streets last night, we now urge the people to consolidate efforts and return focus to our peaceful protests. We cannot let acts of violence and vandalism divert from the energy or the spirit of our protests; nor should we undermine the space it has created for ordinary people to exercise their legitimate, constitutional right to demand systematic political and economic change.
We also appeal to citizens to be prudent and aware that there are attempts to sabotage and discredit the People's Aragalaya, eroding the unprecedented local and international support we have secured for our sustained non-violent efforts throughout this very difficult time.
We regret that those bussed in to attack and destroy the protest sites were largely exploited people – allegedly remand prisoners and citizens doubly failed by both the economic and political systems. We hope that this will open their eyes to the futility of corrupt political patronage and that they will join the people's movement that is now widespread throughout the country.
Finally, we applaud the Bar Association of Sri Lanka for demanding that immediate arrests and travel bans be imposed on all those suspected of instigating this violence – irrespective of their rank or political position. We reiterate our demand that these persons be investigated and prosecuted to the full extent of the laws of this land.
1. Kaushalya Fernando (Actor)
2. Ravibandu Vidhypathi (Dance)
3. Rathna Sri Wijesinghe (Author)
4. Jayathilake Kammallaweera (Author)
5. Prof. Liyanage Amarakeerti (Author)
6. Visakesa Chandrasekaram (Film)
7. W. Jayasiri (Actor)
8. King Ratnam (Film)
9. Peter De Almeida (Actor)
10. Prof Sarath Wijesuriya (Author)
11. Nandana Weerasinghe (Poet)
12. Dr Sunil Wijesiriwardhana (Author)
13. Chandanie Senevirathne (Actor)
14. Kasun Kalhara (Musician)
15. Ruwanthie de Chickera (Theatre Director)
16. Tracy Holsinger (Theatre Director)
17. Keerthi Welisarage (Author)
18. Namal Jayasinghe (Writer/Director)
19. Upekha Chitrasena (Dance)
20. Jerome L. De Silva (Theatre Director)
21. Saumya Liyanage (Actor)
22. Indika Upamali (Musician)
23. Vishnu Vasu (Writer)
24. Prof. Chandana Aluthge (Theatre)
25. Prof. Hiniduma Sunil Senevi (Author)
26. Sulochana Dissanayake (Puppetry)
27. Nimmi Harasgama (Actor)
28. Steve de la Zilwa (Theatre Director)
29. Hiran Abeysekera (Actor)
30. Damitha Abeyrathne (Actor)
31. Thumindu Dodamtenna (Actor)
32. Bharathi Weerasinghe (Media)
33. Vipuli Niroshani Hettiarachchi (Poet)
34. Nadeeka Weligodapola (Musician)
35. Chulananda Samaranayake (Author)
36. Samanalee Fonseka (Actor)
37. Indrachape Liyanage (Musician)
38. Lakshman Joseph De Saram (Musician)
39. Vimukthi Jayasundara (Film Director)
40. Asoka Handagama (Film Director)
41. Pryantha Fonseka (Lecturer)
42. Mohan Raj Madawala (Author)
43. Vimala Peiris (Singer)
44. Roshan Ravindra (Actor)
45. Lakshman Mendis (Singer)
46. Feroze Kamardeen (Theatre Director)
47. Nipuni Sharadha Pathirage (Actor)
48. Priyankara Rathnayake (Actor)
49. Harsha Tennekoon (Actor)
50. Chamila Priyanka (Theatre Director)
51. Sujani Menaka (Actor)
52. Bimal Jayakody (Actor)
53. Niranjala Manjari (Singer)
54. Tharindi Fonseka (Actor)
55. S.Savaneethan (Actor)
56. Kanchana Thalpawila (Costume Design)
57. Kasuni Kavindi Fernando (Actor)
58. Tharanganee Resika Fernando (Author)
59. Dharshana Ruwan Dissanayake (Musician)
60. Devi Gallage (Author)
61. Nadie Kammallaweera (Actor)
62. Nilmini Sigera (Singer)
63. Manjula Wediwardhana (Poet)
64. Thajithangani Chitrasena Dias (Dance)
65. Sanjaya Hettiarachchi (Actor)
66. Eshantha Joseph Peiris (Musician)
67. Ananda Abeynayake (Teledrama Director)
68. Rukshan Gunawardhana (Musician)
69. Jitendra Vidhyapati (Dance)
70. Prasanna Jayakody (Film)
71. Dominic Kellar (Actor)
72. Andre Howson (Actor)
73. Blessie Keegel (Radio)
74. Yudhanjaya Wijeratne (Author)
75. Brandon Ingram (Actor)
76. Richard Simon (Author)
77. Michelle Perera (Actor)
78. Mohamed Adamaly (Actor)
79. Muhanned Cader (Visual artist)
80. Sumudi Suraweera (Musician)
81. Ruveka Attygalle Simon (Visual artist)
82. Heshma Wignaraja (Choreographer)
83. Anoma Rajakaruna (Film)
84. Ameena Hussein (Author)
85. Keerthi Weerasinghe
86. Shyam Fernando (Actor)
87. Kasun Pussewela (Media)
88. Ranga Manupriya (Theatre)
89. Rohan Perera (Film Director)
90. Malith Hegoda (Film Director)
91. Sujitha de Mel (Actor)
92. Anuradha Kodagoda (Media)
93. Logananthan Suman (Actor)
94. Selvaraj Leelawathy (Actor)
95. Ranmali Mirchandani (Arts Administrator)
96. Murugesan Ajanthan (Actor)
97. K. Sathyaseelan (Theatre Director)
98. Ronika Chamalee (Actor)
99. Inoka Lankapura (Actor)
100. Arosha Tharangani (Actor)
101. S. Niththika (Actor)
102. S. Seedevi (Actor)
103. K. Sarangan (Actor)
104. Girtiya Shanthi Sri (Actor)
105. Robin Shan (Actor)
106. R. Jenoshan (Actor)
107. S. Kanistan (Actor)
108. Thusitha Laknath Galindawattha (Actor)
109. Sujeewa Hettitanthri (Poet)
110. Nalaka Jayasinghe (Actor)
111. Anasuya Subasinghe (Actor)
112. Kularuwan Gamage (Cameraman)
113. Indika Ferdinando (Theatre /Film Director)
114. Janaka Inimankada (Publisher)
115. Sithum Chamara Samarajeewa (Editor)
116. Dimuthu Kalinga Dassanayake (Cameraman)
117. Xavier Kanishka (Actor)
118. Jagath Manuwarna (Actor)
119. Shyamila Kalhari (Actor)
120. Aruna Premaratne (Author)
121. Chamila Peries (Actor)
122. Kamal Perera (Author)
123. Dumal Warnakulasuriya (Singer)
124. Prasannajith Abeysuriya (Actor)
125. Nayana Hettiarachchi (Singer)
126. Hemantha Prasad (Actor)
127. Pramodh Edirisinghe (Actor)
128. Chathuranga Dassanayake
129. S.I.Samarakkodi (Actor)
130. Lakshani Amarathunga (Actor)
131. Jude Srimal (Producer)
132. Ajith Kodikkara
133. Nihal Wickrama Edirisooriya (Media)
134. Danister Perera (Singer)
135. Kithmini Hemachandra (Actor)
136. Manjula Perera (Theatre)
137. Thilina Perera (Theatre)
138. Ranga Samarakoon (Theatre)
139. Thushara Hettihamu (Theatre Director)
140. Kasun Tivanka (Actor)
141. Nihari Somasiri (Actor)
142. Kanya D'Almeida (Author)
143. Prasanna Mahagamage (Actor)
144. Duminda Sandaruwan (Actor)
145. Supun Peiris (Singer)
146. Kelum Gamalath (Actor)
147. Pumudika Peiris
148. Dharshana Obeysekere ( Actor)
149. Sumudu Thenniarachchi (Actor)
150. Kasuni Ganewaththe (Actor)
151. Geetha Alahakoon (Actor)
152. Jaliya Rahnayake (Actor)
153. Kasun Liyanage
154. Samitha Sudhieshwara
155. Priyankara Rathnayaka (Theatre)
156. Ryan Holsinger (Lighting Designer)
157. Hasarinda Keshara (Singer)
158. Chathurika Nimalawanda (Film Director)
159. Bennett Rathnayake (Film Director)
160. Nilanka Dahanayaka (Actor)
161. Jayantha Welivita (Producer)
162. Kumuduni Wickramathanthri (Singer)
163. Ama Wijesekera (Actor)
164. Nilwala Wishmali (Actor)
165. Aloka Gayathrie (Actor)
166. Danushka Dias (Actor)
167. Ruvin de Silva (Actor)
168. Thisara Imbulana (Film Director)
169. Chandana Prasanna (Film Director)
170. Buddhadasa Galapatti (Theatre)
171. Sudhath Mahadiwulwewa (Film Director)
172. Madhuni Alahackone-Pussewela (Film DOP)
173. Dinupa Kodagoda (Singer)
174. Nilmini Buwaneka (Actor)
175. Jayampathi Guruge (Actor)
176. Amandha Udani Rodrigo (Singer)
177. Sanjaya Senewirathne (Songwriter)
178. Theruni Peiris (Actor)
179. Chiranthi Mallikarachchi (Costume Design)
180. Jehan Appuhami (Actor)
181. Sampath Perera (Actor)
182. Pramala Vimarshana (Actor)
183. Prageeth Aluthwattha
184. Thisara Mangala Bandara (Writer/Film Director)
185. Himashi Withanage (Actor)
186. Uma Aseni Ravindra (Actor)
187. Sheela de Silva
188. Vanamali Galappatti
189. Palitha Thenuwara (Photographer)
190. Jayani Senanayake (Actor)
191. Sulochana Weerasinghe (Actor))
192. Rasitha Jinasena (Film Producer)
193. George Samuel
194. Uvindu Harshajith Abeysuriya (Actor)
195. Harindu Ranjith Abeysuriya (Actor)
196. Nadishanee Peli Arachchi (Actor)
197. Kumudini Wickramathanthri
198. Akalanka Prabashwara (Actor)
199. Ananda Aluthge
200. Ajith Kumarasiri (Musician)
201. Gayantha Ekanayake (Actor)
202. Wimal Keppettiarachchi (Author)
203. Pabalu Wijegunawardana
204. Athula Pathirana (Actor)
205. Ashoka Athaudahetti (Asst Director)
206. Ridma Weerawardana (Singer)
207. Stefan Tirimanne (Actor)
208. Premaratne Tennakoon (Actor)
209. Asanka Sayakkara (Theatre Director)
210. Ravi Siriwardana (Poet)
211. Kelum Weligama (Author)
212. Chathra Weeraman (Film Director)
213. Palitha Perera (Cameraman/Film Director)
214. Arjuna Wignaraja (Actor)
215. Shanuki de Alwis (Actor)
216. Devin Hewage (Radio)
217. Kumudini David (Singer)
218. Digby Ratwatte-Hill (Advertising)
219. Ihshan Iqbal (Film AD)
220. Wasaam Ismail (Actor)
221. Stephan Anoj Wijeyaratne (Actor)
222. Romany Parakrama (Actor)
223. Shehara Parakrama (Theatre)
224. Mirshad Buckman (Musician)
225. Sarah Hannan (Producer)
226. Alyna Haji Omar (Advertising)
227. Delon Weerasinghe (Playwright)
228. Lloyd Fernando (Radio)
229. Madhubashini Rathnayake (Author)
230. Indika Lakmal Heath (Dance)
231. Piumi Wijesundara (Theatre Director)
232. Vihanga Perera (Author)
233. Subitha Bandaranayake (Singer)
234. Sanjula Silva (Singer)
235. Vishvamalee Chandrathilleke (Singer)
236. Vidura Abeygunawardene ( Lyricist)
237. Chamara Guruge (Playwright)
238. Malshani Delgahapitiya (Administrator)
239. Aqeel Mohideen (Radio)
240. Indika Senanayake (Actor)
241. Chalana Wijesuriya (Actor)
242. Deshan Tennekoon (Photographer)
243. Nilusha Sivaraj (Radio)
244. Karen Balthazaar (Actor)
245. Shanaka Amarasinghe (Actor)
246. Dr. Sean Amarasekara (Actor)
247. Saluja Prabani Peries (Theatre Student)
248. Pramodhi Sithumini Amarasinghe (Theatre Student)
249. Amashi Ishara Dushyanthi (Theatre Student)
250. Hidaayath Hazeer (Actor