(Johannesburg) – The death of Nelson Mandela on December 5, 2013, is a tremendous loss, not only for
South Africa
, but for the world.
Mandela, who led the decades-long struggle against apartheid in South Africa, was jailed for 27 years for his activism. Released in 1990, Mandela became South Africa's first post-apartheid president in 1994. He was widely credited for shepherding the country's peaceful transition to a more equitable and democratic system.

"Mandela's life epitomized the fight for freedom, equality, and justice, all core human rights ideals," said Kenneth Roth, executive director at Human Rights Watch. "His death reminds us of the uniqueness of his principled and dignified leadership, both in Africa and beyond."
Nelson Mandela was born on July 18, 1918. After completing high school, he attended the University of Fort Hare, where he became involved in student politics. In 1944 he joined the African National Congress (ANC). Together with Walter Sisulu, Oliver Tambo, and other anti-apartheid activists, Mandela formed the ANC Youth League. In 1964 Mandela and 156 other ANC members were tried and convicted of sabotage and sentenced to life in prison.
At his trial, Mandela said:
I have cherished the ideal of a democratic and free society in which all persons live together in harmony and with equal opportunities. It is an ideal which I hope to live for and to achieve. But if need be, it is an ideal for which I am prepared to die.
Despite being sentenced to life in prison and spending a total of 27 years in jail until 1990, Nelson Mandela preached passionately and without evident bitterness about reconciliation and the need to build a new South African state. A cornerstone of that development is South Africa's well regarded constitution, which enshrines fundamental values of human dignity, equality, and freedom, as well as the importance of nation building, public participation, and social cohesion.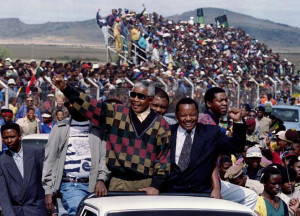 Nelson Mandela and African National Congress candidate Terra Lakota (right) greet supporters during a rally on April 21, 1994.
Almost two decades into its democracy, South Africa is not the country that Mandela had said he hoped it would become. Inequality and poverty remain rife, the education and health sectors are inadequate, and South Africa remains divided by racial separation and deep economic inequality.
"Mandela led South Africa out of darkness and brutality," Roth said. "The country's next generation of leaders would do well to live up to his high standards and fervent commitment to human rights."
-HRW