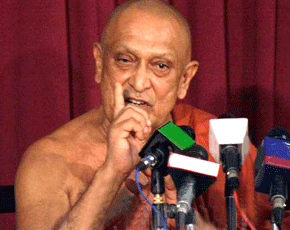 Rev. Maduluwawe Sobitha
Sweeping reforms call for abolition of presidency, executive prime minister, shortening of Parliament life to five years and a caretaker government during elections
Movement to field common candidate to abolish system within 120 days of poll if MR fails to do away with system
Proposals for sweeping constitutional reform founded on the basis of the abolition of the presidential system, drafted by a team of senior lawyers, was handed over to the Chief Prelates of the Malwatte and Asgiriya chapters in Kandy yesterday.


Commissioned by the National Movement for Social Justice headed by Chief Incumbent of the Kotte Nagavihara Ven. Maduluwawe Sobitha Thero and drafted by a team of lawyers including Jayampathi Wickremaratne PC, Elmo Perera and J.C. Weliamuna, the proposals seek to abolish the presidency within 120 days of the next presidential election, at which a common candidate will be fielded by all those seeking a change to the present executive presidential system. Sobitha Thero, Weliamuna and Perera met with the Chief Priests in Kandy to apprise them of the proposed reforms and present copies of the proposals.
The organisation informed the Chief Priests that President Mahinda Rajapaksa had included the abolition of the presidency in his 'Mahinda Chinthana' manifesto, but if he failed to do so ahead of the next presidential poll, all political and civil forces opposing the system would field a common candidate who would perform a caretaker function for six months until the new system was enacted.
The proposed constitutional reforms also seek to shorten the life of Parliament to five years, re-establish the Constitutional Council, make provision for a caretaker government during election time and contain anti-crossover provisions.
The Mahanayake of the Asgiriya Chapter Ven. Udugama Sri Buddharakkitha Thero told the delegation from the NMSJ that the executive presidential system had caused severe problems for the country and that it was the opinion of most that the system must be abolished.
Chief Priest of the Malwatte Chapter Ven. Thibbatuwawe Sri Sumangala Thero told the delegation that many political promises had been made about abolishing the system during meetings with the Chief Priests in Kandy. He said that if the abolition was not going to take place as promised, their blessings would be given for fielding a common candidate to do away with the system.
FT