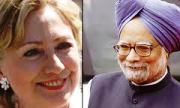 The US Secretary of State Hillary Clinton and Indian Prime Minister Dr. Manmohan Singh have agreed to work closely in expediting the Sri Lankan peace process. Hillary Clinton who was on a three day visit to India met the Indian Premier at his residence in New Delhi on Tuesday.
During the discussion while taking a common stance on expediting the Lankan peace process the US State Secretary and Dr. Manmohan Singh also agreed to take steps towards bringing the Tamil political parties to the negotiating table.
Dr. Manmohan Singh also briefed the US State Secretary on the recent visit of the Indian All Party delegation to Sri Lanka led by Opposition leader Sushma Suwaraj.
The Indian Prime Minister detailed the US Secretary on the findings of the Indian Parliamentary delegation's report on Sri Lanka.
The meeting between the US Secretary of State and the Indian Prime Minister was held on Tuesday in the back drop of yesterday's All Party Conference of the Indian Parliamentary delegation which had visited Sri Lanka.
The All Party Indian Parliamentary delegation to Sri Lanka met yesterday in New Delhi to make a detailed study on its findings in Sri Lanka. The key issues taken up at the meeting yesterday were on Indian assistance in helping the stalled peace process, enhancing Indian humanitarian assistance to the war affected people in the Island and on the problems with regard to the fishermen on both sides of the Palk Straits.

The outcome of yesterday's All Party meeting on Sri Lanka is expected to be conveyed to the Indian Government leaders and to the leadership of the political parties represented in the Sri Lankan tour last month.
– Ceylon Today