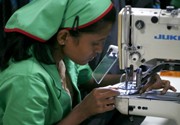 A damning report that accuses major garment manufacturers in Sri Lanka as violating human rights of workers was released in London on May 07, Monday in London, titled "Fair Games ? Human Rights of workers in Olympic 2012 Supplier factories".

The report was produced after research says "Play Fair Campaign" a global campaign coordinated by the International Trade Union Confederation (ITUC), the International Textile, Garment and Leather Workers' Federation (ITGLWF), the Clean Clothes Campaign (CCC) and Building and Wood Workers' International (BWI) and the campaign calls on those who organise the 2012 Olympic Games that would kick off on 27 July and profit from sports events to take specific steps to ensure that workers making sporting goods and building venues are not exploited, and that international labour standards are respected.
The report says, a total of 175 workers were interviewed from October to December 2011. These workers were from 10 factories, which together employ 32,750 workers. Eight of these factories were producing goods for the 2012 Olympics. The brands sourcing from the factories included adidas, New Balance, North Face, Columbia Sportswear Company, Next, Nike, Speedo and Ann Taylor.
The Sri Lanka part of the report has mention about MAS Linea Aqua, MAS Linea Intimo, MAS Silueta and Next Manufacturing. Together these factories employ approximately 8,250 workers. These garment manufacturers are held responsible for paying below the living wage salaries, violating freedom of association, union busting work and poor working conditions among other extremely bad labour practices
SLM