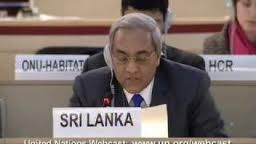 One year ago Mohan Peiris wasdefending GoSL anti human Rights postion at UN HRC
Chief Justice Mohan Peiris has said that Sri Lanka could teach lessons on human rights to the US and the EU although they are trying to teach human rights to Sri Lanka now in Geneva.
"Today at the Geneva conference, the European commission and the US have joined hands to dictate terms to us on human rights. They started to talk about human rights after the second world war, but as a nation we have a 2500-year-old tradition of human rights protection. In fact, we can teach them some lessons in human rights.
Today we have the opportunity to enjoy freedom but it would be a reality only if we uphold the rule of law. Any matter that could not be solved through the officials could be brought to my notice by sending a postcard to my address at Colombo 12," the Chief Justice said.
Chief Justice Mohan Peiris also asked the public to send him a postcard stating their grievances if they cannot solve them through the officials and authorities in the areas, he would provide relief on the part of the judiciary.
Addressing a public meeting at Bakamuna following the opening of the Bakamuna circuit court building he stressed that the services of the judiciary were now available to the people at their doorstep.
"I as the Chief Justice would carry out my duties in a humble manner. I am a person who respects and believes in religion. Sometimes I have a fear about my responsibilities as well. But when I came here and saw I gained confidence. There is nothing to fear. If there is a problem you cannot solve through the officials in the area take a postcard, write it and send to the Chief Justice, Colombo 12. You will get relief," he said.
"All those concerned including the justice ministry, judges and the lawyers have a major role in this process. It is their responsibility to respond to the grievances of the people's sensitively. If the judiciary is not sensitive, the law will serve no purpose. However, it is the duty of the people to respect the judiciary that protects their rights. (Kanchana Kumara Ariyadasa )
http://www.dailymirror.lk/news/26342-sl-can-teach-human-rights-to-us-and-eu-says-cj.html