Sri Lanka attracted approximately US$ 300 million in Foreign Direct Investment (FDI) during 2011, as compared with US$ 478 million and US$ 404 million in 2010 and 2009, according to World Investment Report by UNCTAD (United Nations Conference on Trade and Development)
According to the report, FDI outflows from the country were recorded at US$ 50 million.
However, Sri Lanka's Board of Investment had previously indicated that Sri Lanka had exceeded US$ 1 billion FDI for 2011, with a stated target of US$ 1.75 billion in FDI being set for the end of this year.
In terms of FDI attraction ranking, Sri Lanka was rated at 159 out of 182 countries, although it was also ranked 68th in FDI potential.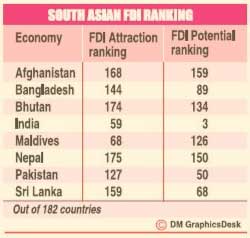 Notably, the report cited Sri Lanka's revival of Underperforming Companies and Underutilized Assets Bill, as one of several global examples of FDI restrictions and regulations, alongside developments in Boliva which led to the takeover of the subsidiary of a Spanish power company which owns and runs three-quarters the country's power grid.
Many other SAARC countries fell into a similar range in FDI attraction rankings, with the exception of India and Maldives which were ranked at 59 and 68 respectively.
Pakistan and Bangladesh were ranked above Sri Lanka at 127 and 144, while Afghanistan and Bhutan were ranked at 168 and 174, followed by Nepal at 175.
However in FDI Potential ranking, Sri Lanka fared better than many SAARC countries except Pakistan ranked at 50, and India.
Bangladesh was ranked 89, followed by Maldives at 126. Bhutan stood at 134, Nepal 150, with Afghanistan ranked lowest in the SAARC region at 159.
The report went on to forecast slower FDI growth on a global level, over the course of 2012, with flows leveling off at US$ 1.6 trillion during the year, from US$ 1.5 trillion in 2011.
Longer-term projections show a moderate but steady rise, with global FDI reaching $1.8 trillion in 2013 and $1.9 trillion in 2014, barring any macroeconomic shocks.