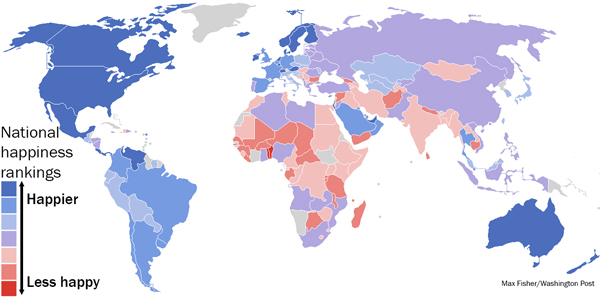 Sri Lanka has been ranked 137 among 156 nations in the UN-sponsored World Happiness Report, in which Denmark was deemed to be the happiest nation in the world.
The 2013 World Happiness Report released on Monday by Columbia University's Earth Institute utilised factors such as the GDP, life expectancy, social support, "perceptions of corruption", and "freedom to make life choices", to assign each country a total score.
Denmark, with 7.693 was deemed the happiest nation, following by Norway (7.655), Switzerland (7.650), The Netherlands (7.512) and Sweden (7.480). Canada (7.477), Finland (7.389), Austria (7.369), Iceland (7.355) and Australia (7.350) completed the top ten.
Britain, with a score of 6.883, came 22nd in the study, behind the likes of Costa Rica (12th), the United Arab Emirates (14th), Panama (15th), Mexico (16th) and Venezuela (20th), but ahead of France (25th), Germany (26th) and Italy (45th).
The least happy of the 156 countries to feature was Togo, with a rating of 2.936. Other African nations also dominated the bottom of the rankings, with Benin, the Central African Republic, Burundi, and Rwanda completing the bottom five. Syria came 148th, Bulgaria 144th, Yemen 142nd, Sri Lanka 137th and Egypt 130th.
The report is based on statistics compiled between 2010 and 2012 by the United Nations Sustainable Development Solutions Network. It found the world has become "a slightly happier and more generous place over the past five years", adding that the biggest increase in happiness had been in Angola, Zimbabwe, Albania, Ecuador and Moldova.
The most significant fall in happiness was found to have occurred in Egypt, which has been plagued by civil unrest since the last report. Greece, Myanmar (Burma), Jamaica and Botswana have also seen a dip in happiness, it said.
A rival to the World Happiness Report, the Happy Planet Index, last year judged Costa Rica to be the most joyous nation on Earth, followed by Vietnam, Colombia, Belize and El Salvador. Its ranking "reveals the ecological efficiency with which human well-being is delivered".
Canadian and antipodean cities usually dominate the Economist Intelligence Unit's annual "liveability" study, while anyone in search of a quick chuckle might consider heading to the town of Happy, Texas, the Tian Xing Yong Le (the Ever-Happy Temple) complex in China, or Hidakagawa in Japan, which hosts an annual laughing festival.