(A Sinhalese student brandishes a log towards a group of Tamil students as violence broke out at Jaffna University on Saturday.)
Sinhalese students at the Jaffna University clashed with Tamil students earlier on Saturday, as violence erupted over the use of a Kandyan dance from the south of the island at a traditional orientation programme.
A university lecture hall, furniture and windows were smashed in the violence, as students fled in the chaos.
The clashes erupted as Sinhala students brought in Kandyan dancers from the south to an annual 'welcome party' at the university, held for first year students at the campus.
Discussions had taken place last week over the dances that were to take place, with an apparent agreement that a traditional Tamil musical procession was to go ahead. On Saturday morning however, tensions grew clashes emerged between Sinhalese students and Tamil students who were with traditional Tamil musicians playing at the ceremony, over attempts to take over proceedings.
A science faculty student speaking on condition on anonymity due to safety concerns, said, "They started shouting… "This is a Sinhala state we will do whatever want!""
"They were holding sticks, iron rods broken pieces of furniture," he added, as they proceeded to attack the Tamil students.
At least 10 students have been admitted to hospital in the clashes, as Sri Lankan police descended onto the scene. Troops from the Special Task Force closed off the area, with military intelligence operatives also reportedly deployed in the area.
Sinhalese students were swiftly escorted by Sri Lankan police back to their homes or to Jaffna Hospital to receive treatment.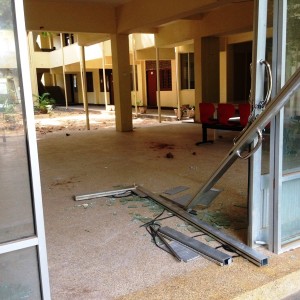 Tamil students meanwhile have been more cautious to seek treatment. "If a Tamil student was to go to the hospital with injuries, staff will know it was because they were attacked," one eyewitness told the Tamil Guardian.
"Then it's only a matter of time before police harassment begins."
Meanwhile officials at Jaffna University declared the campus would be shut down for at least two weeks due to damages sustained and in a bid to help ease tensions on campus.
Universities across the island have seen a rise in tension this year, with several assaults on Tamils by Sinhalese students.
Tamil Guardian