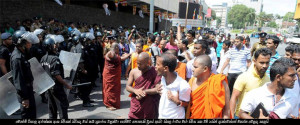 Unruly gaang led y Monks
The monks of Sihala Ravaya and a gang of goons who behaved violently at Kollupitiya this morning demanding the body of the monk who committed suicide, had entered the Kollupitiya municipal people's market and attacked the meat stalls there . They have forcibly taken out the meat and goods that were there and thrown them out, according to reports.

The shops that came in for this attack of the junky monks and their gangs were two chicken stalls and a beef stall. The owners of the stalls had fled in fear of their lives despite heavy security and patrols in and around the venue. No adequate measures had been taken to avert the attack though there was so much security .
When the aggrieved owners of the stalls had gone to the police to make their complaints , the complaints had not been recorded. Senior DIG Anura Senanayake and SP Ranagala had told the owners not to make a din about it and to bear the losses. Even the media reporting on this Sihala Ravaya attack had been obstructed.
The remains were kept in the Jayaratne funeral parlor , but the Hela Urumaya former MP Akmeemana Dayaratne and Sihala Ravaya group had wanted permission to keep the remains at independence square to glorify the junky monk who committed suicide in flagrant breach of the tenets of Buddhism . The government had refused to grant the request , and the remains of Indraratne was finally taken to Kahawatte Temple , Ratnapura with police security where he resided. The police had taken a court order permitting this.
Though Akmeemana Dayaratne and a small group of extremist monks who opposed this , and who encourage suicides had tried to go in a protest procession to the Temple Trees , the police had cordoned off the area and blocked the roads refusing entry.