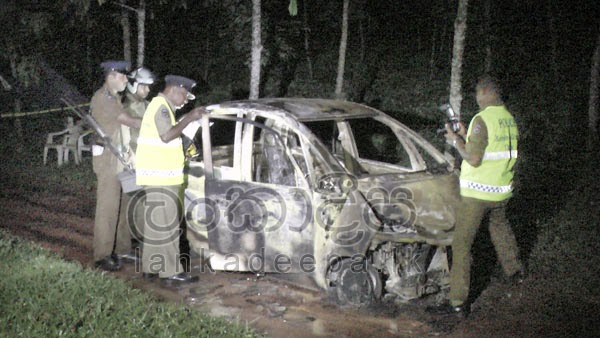 His vehicle on fire ( Lankadeepa)
A traffic policeman assigned to the Southern Expressway was attacked by goons of a local politician because he had booked him for an offence, police say.
A police constable attached to the Southern Highway Traffic Surveillance Unit was hospitalized after being beaten up by a gang near his house in Bombuwala area in Dodangoda, may have been attacked because he booked a local government politician for speeding on the highway a few days earlier.
PC Sumith Saman (33) was attacked on Friday night when he was on his way to take up duty on the highway. He was travelling in his personal vehicle -a Nano, when a double cab with around seven men had blocked his car, pulled him out and beaten him up.
The PC managed to elude his captors and ran away. As he fled he had heard gun shots. Subsequently the attackers set his vehicle on fire.
PC Sumith got himself admitted to the Nagoda Hospital where he is undergoing treatment. He informed investigating officers that he believed the argument which ensued after he wrote a speeding ticket a few days earlier may have been connected to the attack.
Police spokesman SSP Ajith Rohana said PC Sumith had been provided police protection and added police would investigate the statement made by the PC regarding the altercation which arose as a result of him having issued a speeding ticket which may be linked to the attack.
ST