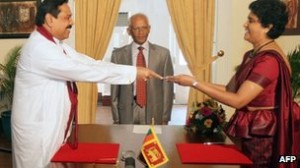 Sri Lanka's president has the power to appoint
but not remove – a sitting chief justice
Sri Lankan governing party MPs have begun moves to impeach Chief Justice Shirani Bandaranayake.
A parliamentary motion to impeach Ms Bandaranayake was submitted on Thursday, officials say.
Impeachment is the only constitutional way to remove a sitting chief justice.
Correspondents say the move is the latest manifestation of tension between the government and the judiciary, which has made some rulings unfavourable to it in recent months. Ms Bandaranayake was appointed Sri Lanka's first woman chief justice last year. President Mahinda Rajapaksa's UPFA party has enough seats for the impeachment to succeed, but the process could take months.

The government has declined to give full details of why it is moving against Ms Bandaranayake, but the initial proposal has received the approval of the required number of lawmakers.
The BBC's Charles Haviland in Colombo said nearly 120 MPs from the government side signed the motion.
'Constitutional dictatorship' Government spokesman Keheliya Rambukwella said the move was made because the chief justice's behaviour and conduct in the past year had "affected the sovereignty of the people" but did not give further details.
An opposition MP, Eran Wickramaratne, said the move was part of a trend in which the country was becoming a "constitutional dictatorship".
On Tuesday the Human Rights Institute of the International Bar Association (IBAHRI) told BBC Sinhala that a move to impeach the chief justice runs the risk of being seen as an attempt to curtail the independence of the judiciary.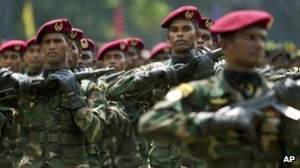 Sri Lanka faces another review of its human rights record after the end the war with the Tamil Tigers
"The potential for any such action to be perceived as politically motivated in light of Supreme Court findings against the government on a matter of constitutional importance does give the appearance that in fact the impeachment might be linked to the judicial function – that [if] the government don't like what the judges are doing they are going to remove the chief justice," co-chair Baroness Helena Kennedy, QC, told BBC Sinhala's Saroj Pathirana.
But the government categorically rejects such implications, describing them as "unfortunate".
Recently, Sri Lanka's Supreme Court ruled that a bill which proposed transferring vital powers held by Sri Lanka's provinces back to the central government needed prior approval from provincial councils.
Rights review Later on Thursday, Sri Lanka is to face its the Universal Periodic Review at the UN Human Rights Council.
Human rights campaigners have urged UN member states to subject Sri Lanka to tough scrutiny. India, Spain and Benin are the three randomly-selected members who will conduct the peer review.
Sri Lanka last faced the review four years ago when it was nearing the climax of a bloody separatist war with Tamil Tiger rebels.
Rights groups say that the country has done too little to address allegations that the army committed war crimes and accuse the government of perpetrating torture and enforced disappearances in peace time.
But the government denies these accusations, saying fewer than 8,000 people were killed in the war's final months and that it deserves more credit for putting thousands of former Tamil Tigers through a rehabilitation process.
BBC