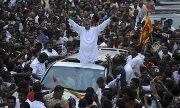 Former Army Commander Sarath Fonseka, who was released on a special presidential pardon on Monday, is to form a new political party named, 'Democratic Party' led by him, MP Jayantha Ketagoda said. "We have already forwarded the application to the Elections Secretariat for registration and awaiting its approval," said Mr. Ketagoda, who is the Chairman of the party.


He also said MP Arjuna Ranatunga and Anoma Fonseka will be the Co-Deputy Leaders of the Party while Tiran Alles will act as the General Secretary.
Mr. Ketagoda said that other officials would be named once the registration process was completed.
Indika Sri Aravinda
DM
Fonseka to join a common opposition
DNA leader Sarath Fonseka has pledged his maximum involvement towards the formation of a common opposition in order to overthrow the present regime which has become an enemy of the people.
He was speaking yesterday (May 22) to the media after paying homage at Sri Dalada Maligawa in Kandy.
Mr. Fonseka also called on the Mahanayake of the Malwatte and Asgiriya Chapters.
He was given a rousing welcome as he travelled to Kandy from Colombo in a motorcade.
People gathered on both sides of the road lit firecrackers and shouted in joy for the freedom of the war hero.
The ex-Army chief also said that he knew the truth would emerge one day.
He said he did not expect anything from the country, but that he would fulfil his obligations by the country.
He said he was grateful to the people who have invoked blessings on him.
Mahanayake of Malwatte Chapter, Most Veh. Tibbattuwawe Sri Sumangala Thera said the people had placed immense trust in Mr. Fonseka and grieved over what had befallen him.
MPs Karu Jayasuriya, Arjuna Ranatunga, Tiran Alles, Jayantha Ketagoda as well as the wife and the two daughters of the ex-Army chief joined in the Kandy visit.
SLM