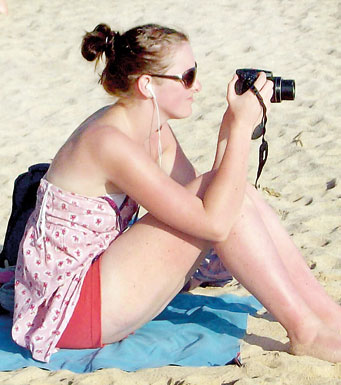 Foreign-tourists
Nadia Fazlulhaq
Police are recording frequent complaints of sexual harassment of tourists in the South, with the latest report of sexual harassment of an Israeli female tourist by a local. On Sinhala and Tamil New Year's day, a 32-year-old Israeli tourist was sexually harassed while on the beach, when her husband had gone to the nearby beach resort in Mirissa, where they were staying.

According to police, a local man had inappropriately touched her and pinched her buttocks. The woman had shouted and later lodged a complaint at the Weligama police. Earlier this month, a group of three men in a van had snatched the bag of a 38-year-old Czech tourist who was holidaying in Weligama with his girlfriend.
Weligama police said that the tourist had lost 500 euros, credit cards, driving licence and insurance documents. A suspect has been arrested while police are looking for the other two. Several incidents of break-ins into hotel rooms and theft of cash, valuable cameras and communication equipment have been reported from this area.
In Mirissa, A group of tourists staying in two hotel rooms, were robbed of ipads, laptops, cameras and cash to the value of Rs. 3.5 million, while they were on the beach. In another hotel room in Mirissa, a 32-year-old Italian policewoman was robbed of her ipad, 200 euros and travel documents while she was asleep.
In a more serious vein, a hotel employee attempted to rape a 35-year-old female tourist while she was asleep in her room, in this area. "Such acts definitely put the safety of tourists in jeopardy. Therefore we are accelerating the process of putting up a tourist police division in Unawatuna, which will also cover Mirissa and surrounding areas," said Acting Director of Tourist Police Senior Superintendent of Police (SSP) Maxie Procter.
He said that the tourist police division will be established in the second quarter of this year, and in the second phase more tourist police officers will be deployed in Mirissa area.
"The police officers attached to local police stations will be trained to handle tourist complaints and investigate them. Their language proficiency will be improved. We will toughen action against those committing crimes against tourists," SSP Procter said.
Meanwhile, police sources said most of the robberies are taking place with the support of certain local politicians from the area. The sources also said that tourists in the area are more exposed to crimes as they stay in houses or small cabanas for Rs. 200-300 per night.
Police recently arrested locals and foreigners attempting to sell and purchase narcotics such as hashish and heroin.
ST