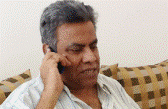 By Lalith Allahakkoon
This is the full text of a public statement issued to the media by Lalith Allahakkoon the Editor in Chief and Editorial Director of "Ceylon Today"about recent events that have caused an Editorial crisis in the English newspaper published in Colombo

1. At around 7 p.m. on the night of Wednesday June 13, Executive Director of Ceylon Newspapers Mr. Dushyantha Basnayake summoned me to his office and said there were several issues to be discussed. Firstly, he informed me that the management had decided to terminate the employment of Senior Cartoonist at Ceylon Today Wasantha Siriwardane.
I informed him that while I was satisfied with his performance, if the management was not happy with him and they wished to discontinue him, he should firstly be warned in writing to give him an opportunity to rectify matters.
2. Subsequently Mr. Basnayake informed me that the management had decided to ask me to leave due to several reasons –
(a) My alleged association with Ranil Wickremesinghe and the UNP –(with whom I informed him I have not even had a conversation in the past year, but even if I was, as a journalist and an editor I do not see how this would constitute a wrongdoing)
(b) that I failed to greet Chairman Tiran Alles at a reception held at the Indian High Commissioner's residence in Colombo and
(c) I failed to publish the unsubstantiated lead story by the Mawbima saying there would be a presidential election in 2013 and contradicted the story the next day. However on this point I clarified that the Ceylon Today story was related to the provincial council elections and not to the presidential elections. I also informed him that in any case the Mawbima lead story was inaccurate and had no legal basis in my opinion. In my experience, a newspaper cannot publish based on the sensational impact of a story alone, but must adhere to certain ethic codes and accuracy.
3. Mr. Basnayake then informed me that my editorial policy and the management's editorial policy do not tally. I reminded him that when this newspaper was begun, Chairman Tiran Alles said Ceylon Today would be an independent and non-partisan newspaper – and even told the editorial team that they would not be required to publish stories praising him. However as time progressed, and subsequent to everything that has happened, the impression created is that the Chairman's intention was to use me and my editorial team to specifically target and attack his political opponents. I informed Mr. Basnayake that as an editor I could not compromise on journalistic ethics and editorial independence as spelled out by the company at the outset of this project. If there was dissatisfaction with my performance, up to June 13, the management had not indicated this to me in writing or in any other way.
4. Mr. Basnayake then informed me that the management wanted me to leave. I requested the termination notice in writing.
5. On the morning of Thursday June 14, members of the Ceylon Today staff informed me that Ms.Hana Ibrahim had summoned an editorial meeting and announced that the management had asked me to leave. She requested the staff to extend their support to her to publish Ceylon Today. She told the editorial staff that they must help her to carry forward my ideas in my absence.
6. A few hours later, Mr. Basnayake summoned a meeting of Ceylon Today Department Heads and informed them that the management had made the decision to terminate me because I was not following the editorial policy line the management wanted. Mr. Basnayake requested the heads of department to lend their support to Ms. Ibrahim. Subsequently Mr. Basnayake held private meetings with senior editors Wilson Gnanadass and Dharisha Bastians to convince them to remain at Ceylon Today, urging them that despite my removal, they should continue to work at the newspaper.
7. On June 14 when I reported to work and made several telephone calls to Mr. Basnayake informing him that since I had not been served with the letter of termination so far, I had been compelled to report to work. He told me repeatedly that the letter would arrive within an hour, 30 minutes etc.
8. Finally Mr. Basnayake asked me to return to my residence and said that he would deliver the letter to my residence.
9. . Following announcements by Ms. Hana Ibrahim and subsequently the management (Mr. Basnayake) that I had been terminated and Ms. Ibrahim would be tasked with overseeing Ceylon Today operations, four senior journalists at the newspaper tendered their resignations to Ms. Ibrahim in protest. They were Deputy Editors Wilson Gnanadass and Dharisha Bastians, and senior journalists Rasika Jayakody and Dinidu De Alwis. They informed Ms. Ibrahim that they disagreed with the management decision to summarily dismiss me for trying to maintain editorial independence that was promised by the management when the newspaper commenced publication.
10 I made several telephone calls to him on June 15, and yet again Mr. Basnayake promised to get back to me in an hour. Since that time, he has ceased to respond to my telephone calls.
11. On Saturday (June 16) I reported to work in order to coordinate the Sunday newspaper. When I entered my office, I found it locked. The security officers subsequently unlocked the door but when I entered and attempted to commence work, I found that my official Computer had been deactivated and I no longer was able to access my machine.
Lalith Allahakkoon
Director / Editor in Chief
Ceylon Today
June 17, 2012