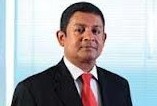 Dhammika Perera
By Faraz Shauketaly
The appointment of Dhammika Perera as the Deputy Director General (DDG) at the Securities and Exchange Commission has failed to halt the flow of negativity associated with Sri Lanka's stock market regulator. Many veteran investors question the suitability of the new DDG and say that his record in the past does not augur well for the workload of current investigations to be completed. According to our sources – Dhammika Perera has constantly called for cases to be compounded as opposed to a prosecution, especially when it came to investigations of high profile investors, traders and politicians.

With market prices having crashed a number of investors saw millions of rupees wiped off the (inflated) prices of their stocks. A growing chorus of dissatisfied clients raised concern over some stocks which appeared to move completely away from the trends, causing some to speculate that these shares were part of an attempt to manipulate the market and gave rise to the 'pumping and dumping' of shares by groups acting in a form of a 'cabal'.
For example in August 2010 four companies were suspended when abnormal price movements were detected. Dankotuwa Porcelain Plc share price moved a staggering 226% from Rs. 38 on 30th June 2010 to Rs. 123.80 in August 2010. Similarly Blue Diamonds Jewellery Worldwide Plc rose in value by 270% in the same period – which was just one trading month – their price moving from Rs. 2.70 to Rs. 10. The non-voting share of the same company moved from Rs. 1.10 to Rs. 4.90 giving rise to an increase of 345%. Unusual price movement was perhaps an understatement.
Asian Alliance Insurance Plc share price moved from Rs. 125.30 in September 2011 to Rs. 380.90 on 3rd October 2011, recording a sharp rise of 204%. Current Chairman of the SEC Nalaka Godahewa was listed in 2011 as having a tranche of shares in Asian Alliance of Rs. 3,336,000 (Rs 3.3 Million) – the same shares if held in September 2012 would amount to Rs 1.8 Million – a little over 50% of the value in 2011.
In March 2011 the Indian healthcare group Fortis purchased Harry Jayawardena's Distilleries stake in Lanka Hospitals paying Rs. 62 per share. The share was trading at around the Rs. 50 mark at the time, indicating that Distilleries got a suitable premium for a strategic stake. However the share price which was Rs. 37 on 5th August 2011 escalated to Rs. 104 on 17 August 2011, showing an increase of 177% in just 12 days. In a period of just 2 days the share rose by 97%.
HVA Foods Plc had a price of Rs. 15.70 on 16th August and three weeks later was trading at Rs. 77.60 showing a price increase of 394%. On the morning of 14th September 2012 nearly a year later the price was Rs. 18.30.

It is precisely sharp movements like these that fall within the purview of surveillance and investigations. In general terms stocks do not show such sharp price movements without a rational explanation for instance like a take over looming. These spectacular and unexplained surges in the price of shares usually catch the retail investor on the wrong foot causing them huge losses.

Dilith's Shares takes a dive: (See Box)
Crashing prices also catch larger investors off guard – not just the small time retail investors. For instance publicly available records show that an unquoted company connected to investor Dilith Jayaweera 'Emagewise' had a total of Rs 1,435,000,000 (Rs 1.4 Billion) of shares in lien to Pan Asia Bank. In reality this may indicate that Emagewise Pvt. Ltd. had borrowed up to half of that – Rs. 700 Million from the bank. Much of the transactions were complete and the share price of Citrus Leisure was hovering around the Rs. 75 mark in 2011. Emagewise's holding in Citrus Leisure Plc was listed in 2011 at Rs. 1.07 Billion. The price per share for Citrus Leisure in the afternoon trading on 14th September 2012 was Rs. 33.80 having slowly gained ground – yet substantially and significantly below half of what it was in 2011. The value of those shares in September 2012 would be Rs. 487 Million – less than half of its value in 2011. For a relatively small company in terms of capitalization, a loss of Rs. 700 Million cannot by any stretch of the imagination be deemed to be insignificant.
Godahewa silently plodding on
The new SEC supremo who is linked to a number of Dilith Jayaweera-related companies and is also the Chairman of Sri Lanka Tourism Development Authority (SLTDA) has been significantly low key in his pronouncements in marked contrast to his predecessor Thilak Karunaratna. Karunaratna who by his own admission was given the impression he would be allowed to 'get on with it' and was naïve enough to believe that, was at an advanced stage of putting into place a number of remedies which would cure the Colombo Stock Exchange of manipulators and bring about a modicum of decorum, stability and integrity to the Capital market. His plans to introduce new capital market intermediaries, amendments to the existing criminal offences, administrative sanctions, civil enforcement powers and the introduction of a two tiered licensing scheme appear to have all fallen by the wayside.
Godahewa cannot by any stretch of any imagination – however convoluted the conspiracy theory – be considered an independent authority to head the troubled SEC. In sharp contrast to the various controversies that Godahewa is confronted with including the parliamentary dictate on conflict of interest, is the striking case of Mary Shapiro the 29th US Securities Exchange Commission Chairperson. Ms. Shapiro was appointed to the position in January 2009 by President Barack Obama and is the first permanent Chairman of the US SEC. Her background in financial regulatory matters has spanned three other Presidencies – Ronald Reagan, George Bush and Bill Clinton, highlighting successive US administrations' determination to keep the key role 'non-political' and professional. Such is the measure of esteem and independence that Ms. Shapiro is held that Forbes magazine listed her as one of the world's most influential women – taking 56th position.
The Sunday Leader contacted Dhammika Perera's office in an attempt to get his view on the current scenario at the SEC and followed it up with an e-mail. At the time of going to press Perera had not responded.
([email protected])
SL