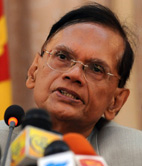 G.L Peiris
Sanctions expression of naked power
Sri Lanka is of the view that imposing sanctions on a country is a flawed instrument of policy which is simply an expression of naked power, External Affairs Minister Professor G.L Peiris said.
Minister Peiris said this when he met his Iranian counterpart Mohammed Javad Zarif in New York, the External Affairs Ministry said today.

Minister Zarif observed that economic sanctions imposed on Iran impacted on the wrong segment of the population, particularly as the country's ability to purchase essential items such as medicines was affected.
Minister Peiris meanwhile briefed the Iranian Minister on developments in Sri Lanka, and said that much has been accomplished following the end of the conflict while resolution of certain issues took longer to be comprehensively addressed.
He also pointed out the disproportionate attention on Sri Lanka in multilateral fora. The Iranian Minister added that Iran could empathize with this position and understood the complexities attached to the post conflict challenges faced by Sri Lanka.
September 30, 2013 (Colombo Gazette)