An unknown squad has vandalized 13 Hindu Terracotta sculptures on the entrance tower (Koapuram) being constructed at the Katpaka Vinyaakar temple in Trincomalee on Friday night, the administration of the temple told media after filing a complaint with the SL police on Saturday. In addition to the sculptures that have been smashed, a number of Terracotta sculptures were also found displaced, according to Mr A. Nadarajah, the secretary of the temple administration.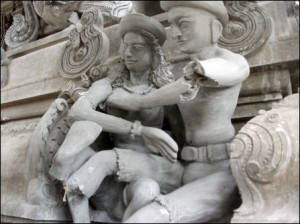 The temple is situated within the limits of Trincomalee Town and Gravets divisional secretariat.
Sinhalese also live in the place, which is primarily Tamil-speaking.
The vandalization and desecration of the temple come following similar attacks on temples in the Batticaloa district after protests from the Tamils against the construction of a controversial Buddha statue by Sinhala Buddhist extremist elements at the entrance to the city of Batticaloa.
However, attacks on Hindu temples in the very own homeland of Eezham Tamils have become a routine since the so-called end of the genocidal war in 2009. Such attacks have become a part of the structural genocide programme to accompany militarization, colonization, Buddhicisation and Sinhalicisation of the country of Eezham Tamils.
TN