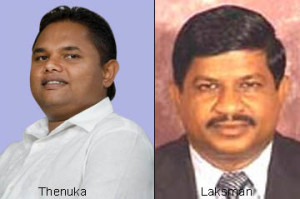 Ruling party M P Thenuka Vidhanagamage who had a fierce argument in Parliament on the 24th with Lakshman Perera of Matale , the evil and illicit partner in the clandestine kasippu ( illicit brewer) business of the Medamulana backward Rajapakse's had attacked Thenuka brutally so much so that his limb had been broken , according to an urgent fearsome report reaching Lanka e news.

Thenuka Vidhanagamage had fallen victim to this ruthless assault when he was returning after attending a lecture delivered at Amaya Hotel situated in, Kandy , on 25th night. This event was attended by Lakshman Perera ,the Medamulana Kassipu partner too. Though both of them were having police security details , Lashman Perera had an additional security contingent that had arrived in a black Defender vehicle .
After the event , Vidharnagamage had left the venue when the security contingent of Lakshman Perera who came in the Defender vehicle mentioned previously had stopped Vidhanagamage's vehicle , taken Vidhanagamage out and fiercely assaulted him. When the MP was attacked with a rod , he had tried to ward it off by raising his right arm when the rod had struck his arm and severed it from his body. Right now he is hospitalized at Kandy Hospital having sustained serious injuries
Vidhanagamage's bed No. is 12/964 . He was admitted to the Hospital at 12.10 a.m. yesterday (26)
The statement made first to the Hospital police by Vidhanagamage mentioned he was attacked by a group of about six persons of Lakshman Perera who came in a Defender vehicle , and that he was pushed to the ground and attacked with rods while he was fallen on the ground , and that his arm had been broken , had been changed subsequently by pressures exerted by Medamulana MaRa . The statement had been amended to Vidhanagamage's arm getting broken because he fell from the vehicle while trying to get into it.
It is a pity that under the Medamulana Rajapaksha's administration there is not one person who can come forward and express the truth even if his own arm is broken , not to mention its own SLFP members. Is this because the situation is so frightening or pathetic in SL ?
May we recall that Lanka e news on many occasions exposed with copious evidence how the Medamulana backwoods Rajapakse's are carrying on a massive illicit kasippu business Islandwide jointly with Speaker Chamal Rajapakse's daughter in law Leksika and through Matale Lakshman Perera , and the latter is paying a sum of nearly Rs. 300 million as extortion monies to MaRa monthly based on reports .

It is worthy of note that Vidhanagamage M P the victim of this deadly assault , revealed in Parliament on the 24th that Lakshman Perera the illicit kasippu Mudalali is collecting Rs. 1000/- per day as extortion fee from each lorry in Girandurukotte that is transporting sand along Wilgamuwa highway. His total collection from 400 such lorries amounts to Rs. Four lakhs per day , according to the shocking disclosures made by Vidhanagamage.
The latter told this evil illicit kasippu Mudalali to his face ' You are a worst crook . You are making money by crooked means' . This accusation led to a near clash between them when Arundhika Fernando intervened and calmed them down.
To the Medamulana Rajapksha's , who respect no laws , know no civilized behavior and only obsessed with the millions of extortion money collected through the kasippu Mudalali don't respect life or limb of even a Parliamentary representative, let alone their own advisor , which was borne testimony to by the assassination of Baratha Lakshman , the Presidential advisor. The SLFP members being unable to understand these evils and portents is an index of the sorry plight of theirs in particular and the grave predicament the country in general is in.
(edited version of the original article)
LeN