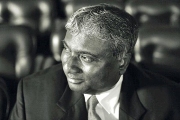 NSB Boss Kariyawasam
Banking sector unions affiliated to major political parties, including the SLFP, have launched a concerted campaign to pressure the government over the controversial deal under which the country's premier saving institution, the National Savings Bank recently purchased The Finance Company shares for Rs. 390 mn, which was about 65 per cent above its market price at that time.

The unions emphasized that the government needed to punish all those involved in the illegal transaction, though an attempt was now being made to save the culprits by simply reversing the deal. They warned that such action would set an extremely bad precedent in the wake of the national economy struggling to come to terms with rapid depreciation of the Sri Lankan rupee against the US dollar.
Acting General Secretary of the Ceylon Bank Employees' Union (CBEU) Channa Dissanayake and the NSB branch union president, Lionel Wickremesinghe, yesterday said that the government and the Colombo Stock Exchange (CSE) should take punitive action against the culprits without further delay. Dissanayake said that at the moment the NSB branch unions were engaged in a campaign within the institution. "Depending on the response of the government and the management, the parent union will intervene," Dissanayake said.
Wickremesinghe alleged that those involved in the deal had finalized it within two hours on April 27, whereas those responsible for mandatory monitoring of the process remained silent. Had they intervened within one working day, the deal could have been cancelled without a hassle, he said.
Wickremesinghe warned that the failure on the part of the government to remove those responsible from the top management would cause irreparable damage to the reputation of the institution. Asked whether the unions were ready to go the whole hog in their battle to clean up the management, the trade unionist said that all five unions active in the bank, irrespective of political differences, were acting in unison on the issue. Unions affiliated to the SLFP, UNP and JVP as well as the executive officers' union had been involved in the campaign, he said, adding that they were in the process of gathering information on the deal. Some of those at the helm of NSB operations had been silent, though the unions intended to pursue their efforts to raise the issue both in and outside the institution.
Responding to a query, the NSB official alleged that some interested parties were trying to capitalize on the situation by attempting to lure their customers away, he said, asserting swift action was needed to reassure those banking with the institution. An irate Wickremesinghe said that he couldn't see any reason why the NSB had agreed to purchase close to 8 million TFC shares at Rs 49.75 each, since it was considered as a high risk and loss making financial institution when it was last traded at the CSE for only Rs 30.00.
UNP National List MP Harsha de Silva yesterday said that the UNP fully supported the ongoing action taken by banking sector unions. Welcoming unions affiliated to major political parties working together on this issue, the MP said that the government would have to face the consequences unless it took tangible action against the NSB chiefs. "We are pushing for a debate on the issue in parliament. We'll name and shame those involved in the transaction and their guardian angels."
Asked whether he agreed with COPE Chairman senior minister Dew Gunasekera's assertion that some union bosses in the public sector remained silent in return for various perks and privileges, the UNP MP said that he, too, agreed with the minister. "I don't disagree with Gunesekara that there may be certain union bosses in the pockets of politicians and that they may keep silent against corruption in their institutions in return for perks and privileges."
"However, in the case of the NSB fraud, all five unions represented at the bank, including the Ceylon Bank Employees' Union and the UNP's Jathika Sevaka Sangamaya, have submitted a combined letter to the Chairman, Pradeep Kariyawasam, on Friday 11 May. In that letter, the unions have directly accused the Chairman of wrongdoing in the NSB-TFC transaction and have asked for his immediate resignation. The letter, a copy of which I have seen, faults Kariyawasam for having brought disrepute to the trusted bank and states clearly that the combined unions will continue to press for his departure until the NSB is rid of him."
Banking sector union bosses and MP de Silva said that they were waiting for the outcome of the ongoing inquiries into the deal. The parliamentarian said that the government could no longer ignore the danger in interested parties manipulating the CSE process at the expense of the national economy.
By Shamindra Ferdinando
IS