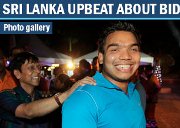 dancing the way out
Nearly Rs. 200 million in public funds was used in the government's abortive bid to stage the Commonwealth Games in Hambantota in 2018, according to an official report to be tabled in Parliament.
The money had been allocated to the Ministry of Sports as initial share capital to bid for hosting the proposed Commonwealth Games as well as purchase of vehicles.

The 2012 Fiscal Management Report which is to be submitted to Parliament by the Ministry of Finance and Planning shortly says the Treasury had provided more than Rs. 195.4 million for the bid to host the Commonwealth Games in Sri Lanka and connected expenses.
The money had come from the allocations provided by the Treasury under the Budgetary Support Services and Contingent Liability Project up to June 30, 2011 and was given as a supplementary allocation, the report says.
When a question was raised in Parliament last week on the amount spent on the Games bid, Sports Minister Mahindananda Aluthgamage said the government was still carrying out an audit on the money spent and the details would be made available to Parliament soon.
The minister said the Government had allocated Rs. 100 million for the bid but of this, Rs. 39 million had been spent on the Hambantota beach games. However the Fiscal Management Report has said Rs 195.4 million was given as the initial share capital to bid for the games.
Meanwhile, the Fiscal Management Report also revealed that nearly 100 supplementary allocations were made upto June last year and large amounts of money were spent to buy vehicles for Government institutions, maintenance of vehicles and foreign travel.
Among the allocation were Rs. 5.1 million for repairing the official quarters of the Minister of Youth Affairs and Skills Development, Rs. 16. 4 million to the Minister of Civil Aviation to buy vehicles and foreign travel, Rs. 25 million to buy vehicles for the Minister of Management Reforms and Rs. 43. 5 million to the Minister of Productivity Promotion to buy vehicles, pay for services and foreign travel.
The report has been complied in compliance with the Fiscal Management (Responsibility) Act.
By Chandani Kirinde
ST