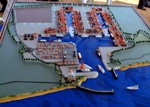 24 June 2011
The government has to pay US $ 111.21 million which is roughly around to Rs. 11.1 billion in terms of interests for the US $ 307 million loan obtained from China for the Hambantota Ports Development Project, P8/.+ liament was informed today.

The total cost of the project is US $ 360 million, and of it only US $ 54 million is financed by the Sri Lanka Ports Authority. The rest of the amount has been obtained from EX-IM Bank, China.
Along with the interest accrued , the government has to pay US $ 418.21 million to the Chinese Bank in 11 installments till December 31, 2022. The repayment will start next year, and the first installment is US $ 46.81 million.
The second installment is US $ 45.05 million, the third installment US $ 43.29 million, the fourth installment US $ 41 million, the fifth installment US $ 39.78 million, the sixth installment US $ 38.02, the seventh installment US $ 36.26 million, the eight installment US $ 34.50 million, the ninth installment US $ 32.74 million and the tenth installment US $ 29.23 million.
The government placed this information before the House in response to a question by UNP MP Ravi Karunanayake.
Mr. Karunanayake said that the Colombo Port is in a severe financial crisis with its accumulated losses currently standing at Rs.8900 million. As a result, he asked whether it could be possible for the government to repay the loan taken for the development of the Hambantota Port.
Deputy Minister Rohitha Abeygunawardena replied that there is a plan to settle this loan without any major problem. Also, he said that there is no financial crisis as such at the Colombo Port. However, Mr. Karunanayake confronted the Deputy Minister in this regard. (Kelum Bandara and Yohan Perera)


DM