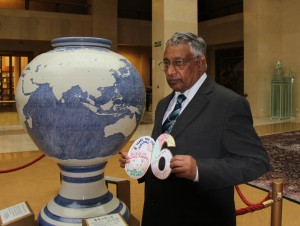 Dr. Manoharan showing the 6 years of impunity at Palace Des Nations , Geneva
* Activists denounce impunity for crimes in long civil war
* Seek justice for murders of 17 aid workers, 5 students
* Sri Lanka rejects calls for accountability at U.N.
GENEVA, Nov 5 (Reuters) – Leading human rights groups called on Monday for an independent international inquiry to investigate massacres of civilians and aid workers during Sri Lanka's three-decade civil war after accusing the government of having failed to do so.

Families of victims, including 17 staff of Action Contre la Faim (ACF) executed in Muttur in 2006, and five students shot dead in Trincomalee that year, joined the call for justice.
The appeal came after Sri Lanka's delegation formally rejected key recommendations by states calling for accountability at the U.N. Human Rights Council, which examined its record last week.
"I want an international inquiry and international judgment, otherwise I am not satisfied," Dr. K. Manoharan, whose 21-year-old son Ragihar was killed on Trincomalee beach in Jan. 2006, told a news briefing.
Yolanda Foster, Sri Lanka expert at Amnesty International, said those responsible for atrocities in the war between the army and separatist Tamil Tigers still had not been prosecuted more than three years after the conflict ended in May 2009.
"The Trincomalee 5 case along with the ACF case is sort of emblematic of a culture of impunity in Sri Lanka where security forces are given carte blanche to continue to commit violations because the state is failing to independently investigate and prosecute," Foster told reporters.
Benoit Miribel, president of the French group Action Contre la Faim, said its 17 aid workers were shot in the back of the head in their Muttur compound in August 2006.
"In reality, the investigation has been a succession of obstruction, interference, of politics in the judiciary and a lack of transparency and independence…Nothing has really happened during the last six years."
A U.N.-sponsored panel, whose findings have been rejected by the Sri Lankan authorities, has said that the army committed large-scale abuses and was responsible for many civilian deaths in the final stages of the war against the Tamil rebels.
Sri Lanka's delegation, led by Mahinda Samarasinghe, said last week a court was probing 50 incidents in a report issued a year ago by its Lessons Learnt and Reconciliation Commission.
But activists said that this did not go far enough and that no data base had been set up to help families trace the missing.
Ian Seiderman, legal and policy director of the International Commission of Jurists (ICJ), said Sri Lanka has consistently rejected cooperation with U.N. rights mechanisms.
"This really underscores the need for a proper full-scale international inquiry," he told reporters.
(Reporting by Stephanie Nebehay; Editing by Michael Roddy)
Reuters