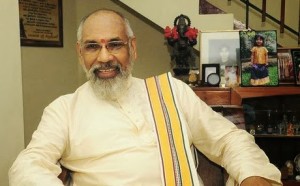 P K Balachandran
The conflict between the Governor and the Chief Minister of Sri Lanka's Tamil-speaking Northern Province is escalating with Governor Maj Gen G A Chandrasiri asking the police to investigate telephonic threats to Chief Secretary R Vijayalakshmi, who he had appointed in the teeth of opposition from Chief Minister C A Wigneswaran. On his part, Wigneswaran has been saying publicly that the Lankan government is commissioning a "former LTTE military commander to restart an LTTE outfit subservient to the powers-that-be," with an aim of eliminating Tamil National Alliance (TNA) leaders. The CM reportedly said this both in his budget speech on December 10, and at a meeting of Sarvodaya workers in Colombo on December 21.

On December 25, Daily Mirror reported that Governor Chandrasiri had told the Jaffna police that Chief Secretary Vijayalakshmi had got anonymous calls demanding her resignation. Some of the calls had come from Lankan numbers and some from overseas, it was alleged.
Chief Minister Wigneswaran has been complaining that the Governor is appointing civil servants without consulting him. But the Governor defends himself saying that he enjoys sole power to appoint civil servants under the Provincial Councils Act 42 of 1987.
Wigneswaran, who has been demanding the replacement of a military man by a civilian in the Governor's post, charged last Saturday that the 150,000-strong Lankan military stationed in the North, was grabbing the local peoples' lands, snatching employment opportunities, and "Sinhalising" the North. To defuse the conflict, President Mahinda Rajapaksa urged the Governor and the CM to meet. In his speech on the budget in parliament a few days ago, Rajapakasa invited TNA to join the Parliamentary Select Committee (PSC) on devolution of power.
But the Governor and CM have not met, and the TNA has said after a party meeting in Vavuniya on Tuesday that it will not join the PSC. The TNA has reiterated its position that prior to the PSC there should be bilateral talks and a bilateral agreement between the TNA and the government. But Rajapaksa has said categorically that the PSC is the only forum for any talks on devolution
NIE