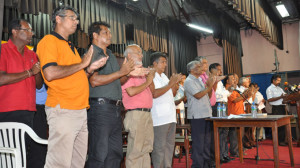 Dr. Deasiri to Govt: Garbage of history awaits you
We ask the government to reserve at least the civility of not exposing its nakedness to the world says the President of Federation of University Teachers' Associations (FUTA) Dr. Nirmal Ranjith Devasiri.
He said this speaking at a summit held in Colombo yesterday (13th) organized by 27 trade unions to extend their support to the struggle carried out by university teachers. Speaking further Dr. Nirmal Ranjith Devasiri said, "This is not only a struggle of university teachers. Also, it is not only an issue of education in the country.
This has become the common voice of a civilized society and those who yearn for such a society. Hence, the rulers of this country still have time if they want to avoid being dumped into the garbage can of history. They still have time to listen to the voice of the people as a group of civilized representatives of the people. Whether they will fall into the garbage can of history or not would be decided on their decision to listen or not to the people's voice. It is for them to choose whether they reserve the civility of not exposing their nakedness to the world or not."
The working class salutes university teachers who carried out the struggle amidst various repressions of the government and Mahinda Rajapaksa regime will definitely kneel down before this struggle said K.D. Lal Kanthe of National Trade Union Center.
Speaking further Mr. Lal Kanthe said, "There is distinctiveness in this struggle. Until now it was students who struggled on behalf of education in the country. The existing governments labeled these struggles as JVP affairs and attempted to suppress them. However, it was not possible. At present university teachers have launched a struggle on behalf of free education in the country. The government did not attempt to label this struggle using a name of a political party. Instead the government attempted to give various interpretations such as international conspiracy and dollar stories. However, all these attempts of the government have failed.
There is also an attempt by the government to mark time to give solutions for this issue. University teachers have been denied of their salaries for two months. The government thought they would give up the struggle due to pressure of not receiving their salaries. Whatever it is, the government does not have any intention of solving this struggle. This government has no regard for education. That's why a character who was sentenced by the Judiciary due to his foul mouth was given the portfolio of higher education. Hence, the trade union sector of the country as well as all parents should support this struggle. A fund has been created on behalf of university teachers to support this struggle. We ask the organizers to publish the account number. We pledge that the maximum support of our trade union movement would be given to this struggle. We should take money from all those willing to support the struggle. We should accept help from everybody who supports such a just struggle. The government may say various things. We should not mind all that.
You would remember that we called a strike during the height of war. It was not a time to talk about strikes. However, we faced that challenge. The government suppressed us using the war. However, the government cannot evade this issue by talking about various things. The employees of the private sector got Mahinda Rajapaksa regime bow down for the first time after 2005. We are definite that the struggle of university teachers will make Mahinda Rajapaksa regime bows down again."
Several leaders of trade unions also spoke.