By SLB-
The Sinhala Buddhist extremists groups have now invaded the field of literature in Sri Lanka and have been able to force the organisers of the 'Literary Award for Golden Book' to change the decision of the highly experienced panel of judges. The award is given by the Publishers Union of Sri Lanka.
Four out of five judges of the 'Swarana Pusthaka Sahithya Sammanya' (Literary Award for Golden Book) had recommended the sinhala language novel 'Mage Adaraneeya Yakshni' (My Beloved Demoness) by Manjula Wediwardena to be awarded as the best novel of 2014. Their decision has been communicated to the organisers on 26th August by four judges, namely, Dr. Sunila Wijesiriwardena, Dr. Harshana Rambukwella, Mr.Lional Fernando and Mr. Saman Wikramaarchchi, according to reliable sources.
As the selection by panel of judges came to be known among the publishers and literature circles, a campaign against the selection was initiated by the extremist elements. They alleged that the content of novel is anti- national and its author, Manjula Wediwardena, is a traitor.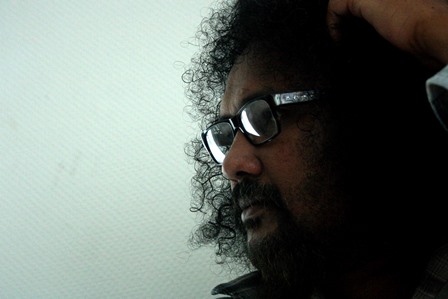 Manjula Wediwardena is an award winning writer and a journalist now living in exile in France.
A Sinhala nationalist group among the Publishers Union has openly opposed the selection saying that they will not allow foreign forces to be active at a time when nationalist forces are at the helm. They have spoken threateningly at a meeting of the Publishers Union that discussed the award ceremony.
The Sinhala Buddhist extremist Bodu Bala Sena group had planned to invade the Award ceremony in case the novel 'Mage Adaraneeya Yakshni' (My Beloved Demoness) is awarded. They had sent people to the festival venue to disrupt the proceedings in such an eventuality, Sri Lanka Brief was told.
Writing in a Sunday Sinhala weekly 'Lakbima', one of the leading theoreticians of the Sinhala chauvinism Dr. Gunadasa Amarasekara had said that "You see, some of those appointed to the panel of judges are always from NGOs, they are dollar crows, peace crows, etc. They are not innocent. They have their own agendas. This came to light in well-known literary festival recently. I came to know that the NGO panel of judges had selected a Novel by a Tiger agent. .. We cannot allow this. This is dangerous."
Speaking to Sri Lanka Brief, Manjula Wediwardena expressed his concerns: "this is not a question of who is awarded or not. It is not the privileges or awards serious writers aimed at. Our aim is social justice. All other short listed authors are very special writers and the novels selected are excellent. This is not an issue of awards, but rather a fatal attack on independence of writers and creativity. If we do not stand together and oppose this extremist pressures the loser will be the art and literature."