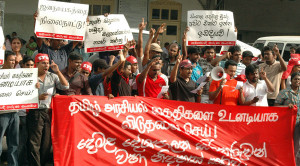 An agitation demanding the government to release Tamil political prisoners was held opposite the Fort Railway altStation yesterday (28th). The agitation had been organized by the Socialist Youth Union (SYU).

SYU organized several programmes on behalf of national unity to celebrate the 'Fraternal Day' that falls on 23rd July, every year. The agitation demanding the release of Tamil political prisoners was one of the items of this programme said the National Organizer of the SYU Bimal Ratnayake.
He emphasized that Tamil political prisoners should be released immediately and they should be allowed to lead normal lives.
A large number of Sinhalese and Tamil youths participated in the agitation
LT