Activists warn of lawlessness and social decadence; politicians among main culprits
With a woman being raped every 90 minutes in Sri Lanka, women's rights activists and academics are expressing serious concern over the rise in grave sex crimes – a disturbing trend that puts the lives of local and even foreign women here on high risk. Their concern came in the wake of several brutal rape cases in recent weeks.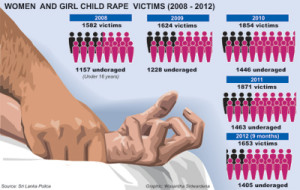 rape-graphic
Add caption
In one of the brutal sex crimes, a 38-year-old mother of three from Pooneryn, Kilinochchi was raped last week by two unidentified men while she was on her way to cut palmyrah leaves in a nearby garden. She was rushed to the Pooneryn Hospital and later transferred to Jaffna Teaching Hospital due to severe internal injuries. The crime is being investigated by the Children and Women's Bureau of the Jaffna police.
In another recent case, a 27-year-old Korean female employee attached to the South Korean embassy complained to the Nittambuwa police that she was sexually harassed by the bus conductor during her journey from Trincomalee. The Nittambuwa police said the victim had been sexually harassed by the conductor several times during the journey. She got off from the bus at Nittambuwa and lodged a complaint with the police. The conductor was arrested and produced in courts. He has been remanded till the end of this month.According to police statistics, there has been an increase in the number of rape cases over the years highlighting a disturbing trend of underage girls becoming easy prey of the sex vultures.
Of the total number of 1,624 rapes on women recorded in 2009, 1228 cases related to the rape of underage girls. But the 2011 figures show a sharp increase in the rape of underage girls. Of the total number of 1,871 rape cases recorded in 2011, 1,463 related to rapes of underage girls.
Presenting the shocking statistics in Parliament recently, Minister Dinesh Gunewardena said a majority of rape cases had been reported from the Kandy, Anuradhapura and Colombo districts while the Anuradhapura district followed by the Kurunegala district accounted for the highest number of child abuse cases.
In most of the child abuse cases, the perpetrator of the crime was a family member or a person known to the family, studies have revealed. Recently a father from Panadura was arrested for molesting his own daughter for eight years. He has been remanded till August 19.
In another incident, a tuition teacher was arrested for sexually abusing eleven students of a junior school in Galkiriyagama. The girls were grade four students who attended scholarship exam tuition offered by the suspect. The Biyagama Police arrested a physical training instructor in a school in Thambuttegama for taking nude pictures of four female students at a motel in Biyagama. The police said that the PT instructor had told the girls' parents that their 15 year-old daughters were being taken to Colombo for fitness tests. Police investigations revealed that the instructor had molested two of the girls. They also found the nude pictures of the girls in the suspect's laptop.
In yet another child rape case, a Kaduwela local government politician was arrested for raping a-12 year-old girl in Athurugiriya.
Women for Rights Co-chairperson Saroja Savithri Paulraj told the Sunday Times that in Sri Lanka a woman was raped every 90 minutes. She said politicians and their henchmen were the key culprits in many rape cases and they demanded sexual favours from hapless women seeking government jobs.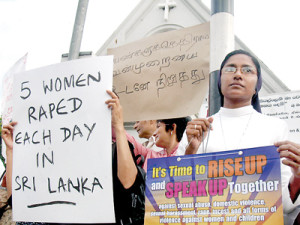 A-protest
A protest held this year near the Town Hall area
Commenting on underage girls becoming rape victims, the activist said, "Unfortunately our education system does not include sex education that warns of adverse effects of unprotected sex. Besides, schools lack proper counselling service for children coming from broken families. Most of the underage girls who fall prey to men at a younger age are those coming from troubled home fronts where they do not find enough love."
Ms. Paulraj said 95 per cent of women travelling in public transport have experienced sexual harassment. Senior Sociology lecturer Dr. Harini Amarasuriya said that an increase in rape cases was a warning sign of lawlessness in society. "The culprits are sure that they can get away with the crime. The people have lost trust in law enforcement agencies. This is an issue that has to be addressed at all levels — not just limited to meetings and conferences," she said adding that the judiciary should consider a time frame in solving rape cases.
Echoing similar views, Colombo University's former Vice Chancellor Savitri Goonesekere said the Supreme Court early this year assured that it would set guidelines for judges with regard to rape cases. "There should be reforms at the judicial level and enforcement agencies should take immediate measures. Community watch groups and rights groups have virtually given up as top state authorities have failed their obligation. The people now believe that sex offenders can easily get away after committing the crime," Prof. Goonesekere said.
Prof. M.W. Jayasundara, head of the Criminology Department at the University of Sri Jayawardenapura, said that losing social control or unable to control sexual feelings had resulted in grave sex crimes. "Fast-track courts should be encouraged to expedite such cases. Knowing that the cases are continuing at a slow pace, the culprits lose fear. It was found that only five percent of the suspects have been given the punishment for the crime committed," he said adding that state institution should also support victims with legal aid.
Prof. Jayasundara said that in some areas local politicians visited houses where girls had attended age to rape them.
"Unless the police and the judiciary take tough action against these wrongdoers, the crime will continue," he said. Jayantha Wickremasinghe, senior superintendent in charge of the Children and Women's Bureau of the Police, said, "Of the total underage female rapes, 70 per cent are statutory rapes in which the girl has given her consent. But as she is a child, it comes under the rape category."He said Children and Women's Bureau units in police stations had been instructed to act sternly and swiftly with regard to rape, incest and unnatural sexual offences in their areas.
Police Spokesman Buddhika Siriwardena warned girls and young women to be wary of men who befriend them, take them to hotel rooms and take their nude pictures to post them on the internet or to blackmail. "If there is blackmail involved, immediately inform the police and action will be taken under the Obscene Act," he said.
The spokesperson said that they obtain support from Moratuwa and Colombo University's information technology experts to track down the suspects involved in cybersex crimes. Asked about politicians involved in rape, he said the police would not hesitate to arrest them if complaints were made.
Judge berates state counsel; moves to protect rape victim
By Manopriya Gunasekera
Ratnapura High Court Judge Mohan Seneviratne overruled a request by a State Counsel to compel a woman who had allegedly been raped by her father in her young years to give evidence in court. She is now a married woman with a child.
"This court is not in any way going to compel the victim to give evidence before this court as it will lead to the disruption of her family life and leave her and her child destitute. This court cannot take the responsibility of looking after the child," the High Court judge said overruling the request.
Judge Seneviratne noted that the Attorney General's Department had on many an occasion submitted affidavits from victims when politicians were involved in rape cases and had even decided not to prosecute such suspects. He referred to a Colombo Magistrate court case where a politician was charged with the rape of an underage girl but the case was subsequently withdrawn on the AG's advice.
The High Court Judge said that even though this Court did not approve of such action, the question had to be asked why the Attorney General's Department was quick to withdraw cases such as the one that was before the Colombo Court but showed no such leniency when the people involved hailed from poor village families and wielded no influence. The judge's remark came after the counsel for the victim told Court that his client was raped when she was a young girl. She is now married and is the mother of one child. However, her husband is unaware that she had been sexually molested by her father and if this information is revealed, it may ruin her family life, he said.
ST