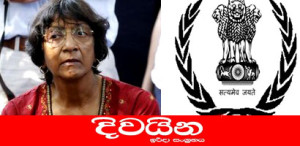 Divaina Sunday Newspaper emphasizes that information has been received by Sri Lankan military intelligence units about Indian RAW activities conducted inside Sri Lanka during the time of UN human rights high commissioner Ms. Navi Pillay's Sri Lankan visit.
The report further says that these agents of the Indian Research and Analysis Wing (RAW) has come to Sri Lanka to check on statements she made and persons whom she met in Sri Lanka.

Divaina says that the RAW had been keeping a close eye on all the activities of Ms. Pillay during her visit from arrival to departure.
According to the details, Divaina says that RAW had spent much of their time in the North and that the security units have not yet been able to unearth the intention behind these activities.
It is said that the RAWs might have been keeping an eye on the comments made to Ms. Pillay regarding the Indian role in the growing issue.