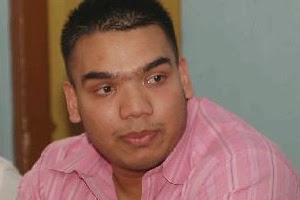 Namal Rajapaksa : the killer company?
UNP leadership council member Mangala Samaraweera says the 'godfather, god son and god uncle' are behind the killings taking place now. Tangalle town has become the latest 'Chicago', where those who speak and act against those in power are murdered in broad daylight while the police and the people look on, he told the media today. The MP noted that the private bus conductor Prabhath Chandana was shot in the head yesterday at the Tangalle bus halt in the high security zone within which the president's home is located.
The assailants ended his life after demanding to know from him about the whereabouts of one Amila Rajapaksa, who had broken away from Namal Rajapaksa's Nil Balakaya.
Everyone knows that the attempt on Amila's life as he had been at court in Tangalle had failed, he said.
MP Samaraweera said that he was claiming with responsibility that the killers were Pallikudawe Ukkuwa, aka Ukkun Malli, who is a close follower of MP Namal Rajapaksa, and Murthi Kodithuwakku, and that the killing had taken place with the knowledge of the OIC and the crimes OIC of Tangalle police.
Although the UN Office on Drugs and Crime says 720 killings are reported a year in Sri Lanka, the actual number exceeds 2,000, he said.
Sri Lanka has been made the kingdom of murders in the world, the use of thuggery has become a qualification to go up higher in the authoritarian regime – for an MP to become a deputy minister and a deputy minister to become a minister, said the UNP MP.
He went onto say that the Hemal Gunasekara whom he had known in the past was not a thug politician he has become now, and he has threatened and abused a policeman and then set fire to his car after he had done his duty at the southern expressway.
This is what he has done to secure a ministerial portfolio to go up higher from the deputy ministerial position he has obtained with much difficulty after being an average MP, the UNP MP added.