Catholics have expressed their dismay at the use of a photograph of Pope Francis in the election campaign of Mr. Mahinda Rajapaksa.
Posters displaying Mr. Mahinda Rajapaksa's photograph have been pasted throughout the country and in areas where Catholics live in large numbers posters with Mahinda Rajapaksa greeting Pope Francis have been pasted.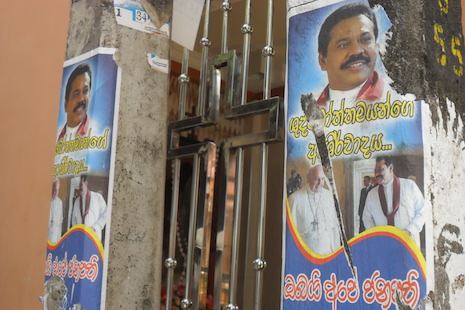 Blessed by the Pope Francis
Mr. Mahinda Rajapaksa's photograph appears at the top of the poster and below photographs of Pope Francis and Mahinda Rajapaksa are displayed with the slogan 'Blessings of Holy Father' and below that the slogan 'You're our President' is printed. Catholics have expressed their opposition to this poster pasted everywhere, on culverts, parapet walls and above drains.
Sri Lanka's Roman Catholic Church too had said that Pope Francis' visit in January should not be politicized and that images of him should be removed from presidential election billboards.
Pope Francis is scheduled to visit Sri Lanka from 13th to 15th January while the presidential election is to be held on 8th January.
-Lanka Truth-