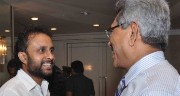 Radaliyagoda with Gota
Journalist of the ITN, Sudharman Radaliyagoda, who is currently on a warrant to be arrested and another person had met with DIG I.M. Karunaratne who is in-charge of the Western and Northern Range of the Colombo Division on the 12th around 10.20 a.m. and had been engaged in a lengthy discussion.

After the lengthy discussion, DIG I.M. Karunaratne had summoned IP R.S.D. Karunaratne who is in-charge of the Special Crimes Investigations Division (SCID) at the Mirihana Police and directed him not to arrest Radaliyagoda under any circumstance.
The head of the SCID had explained about warrant that has been issued on Radaliyagoda. He had said if the police fail to present an acceptable reason to the failure to arrest Radaliyagoda before the next court date; the Kaduwela Magistrate would take stern action against the issue.
The DIG had then said that he would handle the Kaduwela Magistrate and ensure there would not be any problem from her. The DIG had then dismissed the head of the SCID and continued his conversation with Radaliyagoda and his friend.
According to policemen at the Mirihana Police, DIG I.M. Karunaratne had directed the SCID not to arrest Radaliyagoda since he is in the process of getting a land on Pagoda Road, Nugegoda under the DIG's name.
The friend who accompanied Radaliyagoda to meet the DIG is closely linked to a politician in the area and has been accused of racketeering with stolen goods. Various courts have issued open warrants on this person for allegedly keeping in his possession stolen goods. However, he has managed to refrain from getting arrested with the intervention of senior police officers.
LNW