Civil society grouping Purawesi Balaya yesterday urged the Sirisena-Wickremesinghe government to go ahead with the planned referendum to pave the way for a brand new constitution.
Purawesi Balaya emphasised that a new constitution was required to achieve objectives of the incumbent administration as well as post-war national reconciliation process.
Addressing the media at the Centre for Society and Religion (CSR) at Maradana, top Purawesi Balaya spokesperson Gamini Viyangoda acknowledged that introducing a new constitution was certainly the biggest challenge faced by the ruling coalition. Viyangoda asserted that the successful completion of post-war national reconciliation process would never be a reality unless the new constitution was introduced.
The Geneva-based United Nations Human Rights Council (UNHRC) in June this year said that either a new constitution or constitutional amendments should be put to a referendum in 2017. The UNHRC said that from a human rights perspective, the constitutional reform process presented an important opportunity to rectify structural deficiencies that contributed to human rights violations and abuses in the past and reinforce guarantees of non-recurrence.
Purawesi Balaya didn't make any reference to the Geneva process or the special statement on Sri Lanka made in June this year.
Viyangoda said former President Mahinda Rajapaksa wouldn't oppose the abolition of dictatorial presidential powers or doing away with executive presidential system as the latter would not be able to hold that post ever again. However, the former President opposed devolution of power citing the threat of the country being divided on ethnic lines and western intervention.
Joint Opposition Leader Dinesh Gunawardena and former External Affairs Minister Prof. G.L. Peiris on Wednesday urged the government to share its specific constitutional reforms proposals with other political parties.
Reiterating Purawesi Balaya's commitment to yahapalana policies, Viyangoda castigated those who had been reluctant to go ahead with the referendum in spite of them being members of the incumbent administration. Viyangoda urged them to face what he called a daunting task. "Many believed that the Rajapaksas couldn't be defeated and they considered our plans in the run-up to presidential polls in January 2015 as unrealistic", Viyangoda said. Having defeated the authoritarian Rajapaksa rule, the country couldn't under any circumstances afford not to go the whole hog. "Let us go ahead with the referendum whatever the obstacles and threats,."
The NGO activist said a deliberate attempt was being made to discredit the civil society. Viyangoda accused a section of the media, websites and social media of claiming that three Purawesi Balaya activists, Dharmasiri Bandaranayake, Saman Ratnapriya and him would enter parliament through UNP National List.
Emphasising that they wouldn't accept National List posts under any circumstances, Viyangoda said they could as members of civil society play a more effective role than a members of parliament. "And on the other hand, we don't want to commit political suicide by entering Parliament."
Viyangoda and Saman Ratnapriya explained how persons with vested interests had displayed posters in Colombo and major towns declaring the government accommodating Purawesi Balaya members in parliament.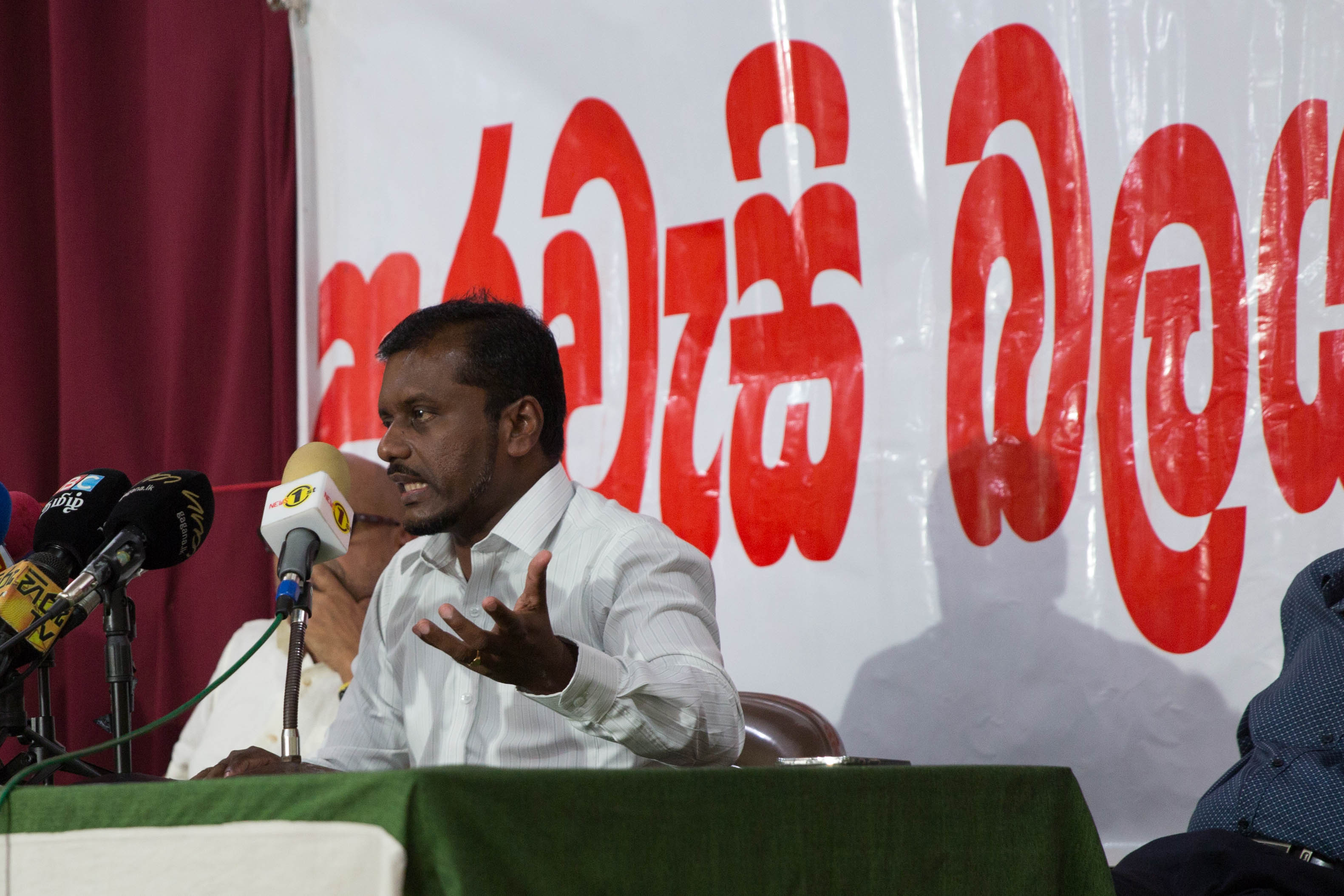 Ratnapriya said that a new constitution was needed urgently to address recurring concerns pertaining to good governance, accountability and human rights. Constitutional reforms were essential to neutralise those who had adopted former President Rajapaksa's strategies. Ratnapriya said that certain critically important and far reaching proposals couldn't be accommodated in the 19th Amendment to the Constitution as it was placed before the people at a referendum. The trade unionist said that those sections should be included in the constitution subjected to people approval at a referendum.
Purawesi Balaya said that proposals to adopt constitutional amendments which didn't require a referendum weren't acceptable to the vast majority of those who had desired change of government in January 2015.
Ratnapriya criticised ministers for questioning the need to go ahead with the constitutional making process without delay.
Referring to scheduled three-day debate in parliament in second week of January, 2017 on constitutional reforms, Ratnapriya said "let the people decide the fate of the constitutional proposals at a referendum".
During the course of the briefing Ratnapriya revealed that the civil society would push for remaking of the ten-member Constitutional Council to accommodate more civil society members. Ratnapriya said that though they pushed for seven civil society members and three members of parliament, finally agreement was reached on a composition vice versa to their proposal. Ratnapriya said that Constitutional Council reflected the parliament therefore far reaching changes were required.
Original caption: Yahapalana partner demands referendum in line with Geneva Resolution.
By Shamindra Ferdinando / The Island