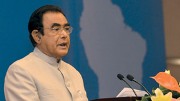 The Public Trustee's Department has paid Rs. 144,000 to 'Sitha Stores' for a suit for prime minister D.M. Jayaratne to be worn during a visit to Vavuniya. JVP's Sunil Handunetti made the revelation during the parliamentary debate on COPE.

The Department has also spent Rs. 269,000 on books and clothes distributed during the tour.
The auditor general has received several complaints against the public trustee, who has been asked to explain more than Rs. 20 million of spending during a period of one year.
There is another allegation that absence of records of bills for Rs. four million spent on 'Atapirikara' offerings to Buddhist monks at functions attended by the premier and other politicians.
Furthermore, instead of obtaining services of lawyers of the AG's Department, the public trustee had paid Rs. seven million to private lawyers.
The auditor general has questioned the public trustee's spending of Rs. 500,000 on a pandal to mark the president's induction in office and Rs. four million on an alms giving at Kirivehera, Kataragama.
SLM