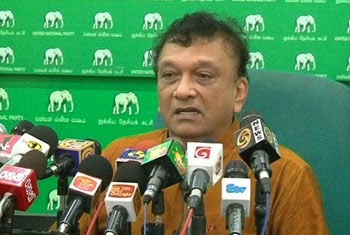 *Will respond only to govt.'s written solution to ethnic issue -Kiriella
Following President Mahinda Rajapaksa's recent assurance to Indian Prime Minister Narendra Modi that he was willing to implement the 13th Amendment to the Sri Lankan Constitution with the exception of police powers, the UNP yesterday urged the government to match words with action without wasting more time on yet another Parliamentary Select Committee (PSC) process.
UNP Lakshman Kiriella MP told The Island: "We have lost count of the number of All Party Conferences and PSCs established to discuss the ethnic issue which led to a three-decade-long war. It has been debated for decades and the answers have been staring us in the face. It's the time for implementation and not further endless talks which would lead us nowhere."
He said that the 13th Amendment had been enshrined in the Sri Lankan Constitution and should be implemented. But, if the ruling UPFA did not want to devolve power in terms of 13A, it should present an amendment. The MP noted that instead of doing the obvious, the President and some of its ministers were going around blaming and labelling their critics as traitors.
President Rajapaksa was trying to drag the UNP into yet another time wasting PSC without telling the country in writing what his solution to the ethnic issue was. It was the government that had to lay its cards on the table first. Then only could the Opposition respond, MP Kirielle said.
Dealing with the rift that had developed within the UPFA was the Presidents problem, but he should not play politics with national issues, Kiriella said, adding that a leader should have a proper political vision for the country and its people without placing personal interests above all else.
Kirielle warned that the new Indian government led by the BJP's Narendra Modi was fully committed to devolution and President Rajapaksa would find it far more difficult to deal with it than the previous Manmohan Singh administration.
Although the UNHRC had established a panel to conduct a war crimes probe into the conduct of government forces and the LTTE during the last stages of the civil war that ended on May 18, 2009, the proceedings which were due to get underway shortly could still be delayed, if not halted, provided the powers that be came down from their high pedestal and implemented at least the key recommendations of its very own Lessons Learnt and Reconciliation Commission Report, the MP observed.
by Zacki Jabbar
Island