"The SL military never bought my lands. They said I need to provide details to obtain land. Then I was forced to sign a paper in Sinhala at the police station. The SL military moved into my land and has now sent notice to seize the lands permanently from me," said a Tamil mother who protested against the land surveyors who came to her land situated along the A9 Road, at Mirusuvil in Thenmaraadchi of the Jaffna district. While the protest was going on a group of SL military intelligence operatives entered the house of a Tamil councillor, who was supporting the protesting family, threatened his wife at gunpoint and caused damage to his property.
Rasiah Theivendrampillai, the councillor from the divisional council in the area, said military personnel who entered his house, while he was at the protest, burnt his bankbooks and land deeds and threatened his family.
The protest was launched as S.R. Sivendrakalanithy, a land surveyor, had come to the locality after issuing a legal notice to survey the 40 acre of land that belongs to Mrs Maheswary.
Gajendrakumar Ponnambalam and Selvarajah Kajendren of the Tamil National Peoples Front (TNPF) and TNA Northern Provincial Council (NPC) Minister of Agriculture, P Aingaranesan, were present at the protest site with the Tamil councillors from the divisional civic body in Thenmaraadchi.
The occupying SL military had illegally seized the land from Mrs Maheswary Thambirasa, the mother of seven in Thenmaraadchci of Jaffna district last year and proceeded with relocating the Brigade Headquarters of the notorious 52 Division, which was situated at Vara'ni earlier.
The relocation was executed with a hidden agenda of expanding the base into a permanent military cantonment at at Aasaippi'l'lai-yeattam in Mirusuvil.
SL presidential sibling and defence secretary Gotabhaya Rajapaksa, who declared the new base open on 08 January 2014 was claiming that the new base was established at a purchased land.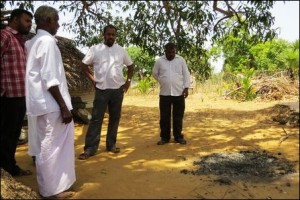 Mrs Thambirasa had bought 53 acres of land in 1969. Later, she donated 3 acre slot for the purpose of establishing a cremation ground and divided the remaining lands among her 7 children and keept 15 acres in her name, she told the reporters who went to witness the protest on Tuesday.
Prior to the SL military seizure of her lands, Mrs Thambirasa was taken to a SL police station and the Sinhala policemen there threatened her to put her signature on a paper written in Sinhala language, which she didn't understand, the crying mother told media.
The Brigade headquarters for 52 Division was established at the locality in January 2014 after several months of prolonged propaganda that the SL military was relocating the camp from Vara'ni in order to free the lands to civilian owners at the former location.